A (Drafty) Window of Opportunity
Friday, November 30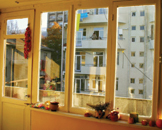 The weekend's dusting of snow on Mtatsminda and a new chill in the air are reminders that winter is just around the corner. In fact, in many flats throughout Tbilisi, one does not even need to step outside to feel the frosty air.
"I leave the heating on pretty much all the time, but my house is always cold, because it's so drafty," commented one Tbilisi resident.
With single-pane glass windows, no windowpane sealants, and rotting wood frames, it is very easy see that most buildings in Georgia are not well protected against heat loss. Less visible, though equally important is how heat is lost through thin, external building walls and un-insulated roofs so that many Georgians are effectively paying to heat the outdoors.
Georgia's recent construction boom has provided the country with an opportunity to build anew. The Tbilisi municipality has reported that over 5 million square meters of high rise residential buildings in the last three years.
However, most of these twenty-first century buildings lose more heat than the old Soviet apartment buildings constructed fifty years ago.
"In Soviet times, the average thickness of exterior walls was around 380-400 millimeters (mm). This was not good, but now it is worse—now new buildings have exterior walls with thickness around 200-250 mm," said Nelly Verulava, Director of the Centre Energy Efficiency -21, Georgia. "Builders are using cheaper materials that do not provide good insulation, and there are no government laboratories checking the quality of materials."
Adding insulation and increasing wall thickness can increase the costs of a new apartment or a house, but this one-time cost increase for the buyer can be paid back many times over in the form of significantly lower heating bills, year after year.
But in some cases, incorporating energy efficient building designs can actually save developers money. Verulava has been working with the USAID Rural Energy Program to document how Georgian construction companies can reduce construction costs while increasing insulation capacity, drawing upon the experiences of Ukraine and Russia. Both of these countries have recently adopted energy-efficiency requirements into their building codes.
"Aside from the cost-benefits, energy saving has a positive impact on nature and Georgia's natural resources," said Nana Janashia, Executive Director of CENN, a Georgian environmental NGO.
Despite these advantages, most builders are not voluntarily taking the initiative to provide these long-term benefits.
The Georgian government is presently developing new building codes; however, it remains to be seen whether energy efficiency requirements will be incorporated into the new laws.
Editorial assistance: J. Lappin