Ruling party MP calls for inquiry into use of rubber bullets
By Anna Kamushadze
Monday, December 17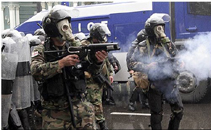 The ruling party MP in charge of civil rights issues is demanding an investigation into what she says is the illegal use of rubber bullets to disperse anti-government protestors on November 7.
"[The law] enumerates a number of things which can be used to disperse riots. Those include water cannon, rubber batons, tear gas and even electric shock, but not rubber bullets," Elene Tevdoradze, chair of the parliamentary Human Rights and Civil Integration Committee, said on December 16.
Last week, Human Rights Ombudsman Sozar Subari also called for an inquiry into the use of rubber bullets on November 7. The use of weapons not explicitly sanctioned by law, Subari said, in this case constituted a crime which could bring a lengthy prison sentence.
Interior Ministry representatives did not respond to repeated requests for comment on this article.
Tevdoradze said she agrees with all of Subari's statements. If the ombudsman's appeal to the prosecutor general is not taken up, she pledges she will take measures to pursue an investigation.
"The prosecutor general must be interested in all instances of violations of the law, investigate the case and make decisions accordingly," Tevdoradze said.
Ucha Nanuashvili, executive director of the Human Rights Center in Georgia, said he also backs an investigation into the use of rubber bullets on November 7.
That the government even bought rubber bullets constitutes a crime, he claimed.
"Not only the use, but even the purchase of rubber bullets is a crime. I put responsibility for this on the Minister of Internal Affairs, and of course on [Interior Minister Vano] Merabishvili," Nanuashvili stated.
On November 7, the Healthcare Ministry reported 508 people taken to hospitals, most with minor injuries.
The prosecutor general has not yet responded to the requests for an investigation.