Patarkatsishvili delays return to Georgia yet again
By Christina Tashkevich
Friday, December 21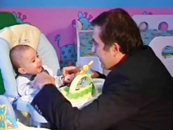 Presidential candidate Badri Patarkatsishvili postponed his return to Georgia yet again on December 20, the same day his campaign team released a video statement calling for support.
Patarkatsishvili has been out of the country since early November and is currently wanted for questioning by the Prosecutor General's Office regarding his role in an alleged coup attempt on November 7, when police forcefully dispersed protestors in Tbilisi and the government declared a state of emergency.
Since being officially confirmed as a presidential candidate on December 9 he is immune from prosecution. However, his campaign team have repeatedly requested extra guarantees that he will not be arrested when he returns to Georgia.
The latest date set for his return was yesterday, but the business tycoon's campaign team head, Valeri Gelbakhiani, told journalists it would be postponed yet again.
"Despite the fact that Patarkatsishvili does not have security guarantees, he still thinks that it's important to meet with voters," Gelbakhiani said yesterday.
A video statement by the businessman was broadcast on Imedi TV on Thursday, in which he called on Georgians to register their support at his election headquarters.
He also called on acting president Nino Burjanadze to defect from former president and ruling party leader Mikheil Saakashvili's inner circle.
"I call on responsible politicians, for example Nino Burjanadze, to break off relations with Saakashvili so as not to participate in his crimes," he said, according to a transcript of the statement released by his campaign office on December 20.
The same day, Imedi Party leader Irina Sarishvili—who was not permitted to join the recently formed opposition coalition due to her perceived Moscow sympathies—presented her election platform to Russian ambassador Vyacheslav Kovalenko.
"This was a useful meeting," Kovalenko said, adding he met with Sarishvili "to listen her views on the about situation in Georgia in the run-up to the election."
Sarishvili commented after the meeting that in order to restore the country's territorial integrity, Georgia's leadership should move from its current aggressive politics to a more balanced stance.
"In order to the improve social situation, the economy, and most importantly to restore territorial integrity, it is necessary to change the current aggressive foreign policy to a more neutral stance—which means we should be friends with every country," Sarishvili said.
Also on Thursday the New Rights Party, which is led by Davit Gamkrelidze, demanded that the Central Election Commission (CEC) annul the candidacy of Saakashvili, accusing him of attempting to buy votes citing two cases where voters where voters were presented with electronic goods that were reportedly gifts from the ruling party.
However, the CEC stated that only the court has the authority to rule on such matters.