The billionaire and the government, estranged
By Ana Datiashvili
Friday, December 21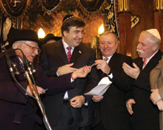 Profile: Badri Patarkatsishvili
This is the third in the Messenger's series of profiles of the seven presidential candidates.
Georgians largely met Badri Patarkatsishvili's announcement of a presidential bid with incredulity. Though he had a positive image cultivated by years of philanthropic giving, voters had a hard time imagining a billionaire—much less one wanted by authorities in two countries—stepping into the presidency. Patarkatsishvili has, however, pushed ahead with an attention-grabbing and vigorous independent campaign.
Early life
Patarkatsishvili spent his childhood in Tbilisi. Unsurprisingly, his former teachers speak glowingly of the astoundingly wealthy businessman.
"He was a very handsome, clear-eyed pupil was always dressed tastefully and was every teachers' favorite boy," one former teacher told Rustavi 2 this month.
The intervening years between upstanding pupil and business tycoon, however, are anything but clear. Patarkatsishvili apparently spent time at a few different universities before settling in Russia as a young man, starting on his path to wealth.
Patarkatsishvili was among the beneficiaries of the anarchic, free-wheeling business climate of Russia in the early 90s. Forming a close partnership with oligarch Boris Berezovsky, who like Patarkatsishvili was later to effectively exiled from Russia, he became involved in a long list of valuable companies.
By the end of the decade, Patarkatsishvili was one Georgia's wealthiest sons.
Fall from good graces, twice
The good times lasted little longer than Boris Yeltsin's presidency. By 2001, both Patarkatsishvili and Berezovsky were on the run from fraud charges. Moscow authorities say there were going after the oligarchs who profited from the disorder and corruption of Yeltsin's era; Patarkatsishvili says the charges were invented after he and Berezovsky fell out with Vladimir Putin's administration.
Patarkatsishvili found shelter in London and Tbilisi. Both former president Eduard Shevardnadze and incumbent presidential candidate Mikheil Saakashvili repeatedly rebuffed Kremlin requests to extradite Patarkatsishvili to Russia.
Once in Georgia, Patarkatsishvili's deep pockets were turned towards domestic investments, including the Kulevi oil terminal (since sold), a football club and much more through Salford Capital, the investment fund managing much of his portfolio. Much of that money, opposition politicians now claim, went to causes and needs benefiting the Saakashvili government.
Patarkatsishvili, who had previously controlled the Kommersant media group and a television network in Russia, also created the Imedi media holding in Georgia. Yet as Imedi grew into one of the country's top two broadcasters, it quickly began to play a pro-opposition role, contrasted with government-friendly rival Rustavi 2.
By 2006, Patarkatsishvili had publicly fallen out with the Saakashvili administration. He accused the government of extorting money from businessmen for an opaque slush fund and mounting pressure on Imedi TV. Ruling party representatives immediately branded Patarkatsishvili as an oligarch trying to manipulate the country to his own ends.
Taking center stage
Tensions simmered mostly out of sight until September 2007, when ex-defense minister Irakli Okruashvili emerged from premature political retirement to accuse Saakashvili's administration of corruption and murder plots. Among other allegations, Okruashvili, without evidence, claimed his former boss once ordered the assassination of Patarkatsishvili.
Okruashvili was arrested two days later, setting off a firestorm of public protest which propelled the country to where it stands today. While the imprisoned ex-minister was swiftly taken out of the political equation, pointing the finger at a scheming Patarkatsishvili in a televised confession, the businessman began to float suggestions of an impending personal leap into political waters.
"[The opposition] is pushing me from every which way to enter politics," Patarkatsishvili told Imedi TV in the second week of October. It's possible that this time will come. Unfortunately for me, I think the preconditions for [entering politics] are in place."
By the end of the month, Patarkatsishvili had abandoned any pretence of disengagement. As the government ratcheted up its accusations against him, he announced his intention to fund the political opposition's protest campaign, which was to culminate in a mass November 2 rally on the steps of parliament.
Leaders of the opposition coalition later claimed to have not taken any significant amount of money from Patarkatsishvili.
Saakashvili's administration accused the tycoon of financing a coup attempt. Patarkatsishvili himself was not shy about airing his goals.
"I financed the Rose Revolution and now I am financing a stable country and a constitutional change in government," he said as November 2 approached.
By the time November 2 came around, Patarkatsishvili was one of the government's chosen antagonists. As 50 000 Georgians rallied in front of parliament, a giant poster portraying Patarkatsishvili as puppet master, opposition politicians jerked about on strings, was hanging from a government building on Rustaveli.
The protest continued, with dwindling numbers, until November 7.
That day, the government decided to send in riot police. The situation escalated throughout the day; by evening, Imedi TV had aired a statement from Patarkatsishvili vowing to spend everything he owns to remove Saakashvili from power.
The television station was raided by special forces troops soon after, and authorities declared a state of emergency.
The prosecutor general announced that Patarkatsishvili was wanted for questioning for his role in what the government has claimed was a Russian-orchestrated failed putsch. Meanwhile, the government targeted his assets in Georgia: an amusement park in Mtatsminda, Standard Bank, and Imedi TV, which was allowed to resume broadcasting after more than a month and substantial international pressure.
Patarkatsishvili has been out of the country since then. He announced his bid for the presidency around November 11, pledging to run the Saakashvili administration out of the country.
"I've money, popularity and a powerful media outlet. I'll use all my strength to free Georgia from this dictatorial junta," he told a journalist in Israel.
A campaign by proxy
His presidential campaign has been run in Georgia by MP Valeri Gelbakhiani and Goga Zhvania, brother of the late prime minister Zurab Zhvania.
Patarkatsishvili has delayed a return to the country, demanding guarantees of protection from the government on top of the flimsy immunity provided to candidates by election law.
The government, which offered such guarantees to Labor candidate and accused coup plotter Shalva Natelashvili, has so far refused.
In the meantime, his allies are running a campaign which continues Patarkatsishvili's vocal anti-government declarations. He has seemed determine to mount a formidable bid, despite the apparent handicaps and little initial support from Georgian voters. In the last week, he has promised to spend more than USD 1 billion of his personal fortune to finance a three-phase development plan for the country.
The first phase, "assistance," would entail a year and a half of Patarkatsishvili paying gas and electric bills for every Georgian resident and unemployment benefits of GEL 600 a month, among other social aid.
Ruling party officials have alleged that Patarkatsishvili's offers of social aid, which he promises will be "twice as large" as anything government offers, amount to bribery.
How Georgian voters will take to the offer remains to be seen. Some clue could be found on December 18, when hundreds of misinformed Tbilisi citizens lined up outside the tycoon's campaign offices awaiting cash handouts.