Patarkatsishvili says tape proves government assassination plot
By Christina Tashkevich
Monday, December 24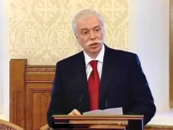 Wealthy presidential candidate Badri Patarkatsishvili has told a British paper of an alleged plot by the Georgian Interior Ministry to have him assassinated and blame Russia for the deed.
Speaking to the
The Sunday Times
, which is owned by News Corp, Patarkatsishvili's business partner in Imedi TV, the Georgian tycoon claimed to have learned about the plot in mid-December.
"I was told that about six or eight weeks ago four people from Georgia came to London and stayed with [a Georgian individual] in London. I was told these people had been sent to do something against me," he told the newspaper.
An audio tape provided by Patarkatsishvili and later posted online documents a 45-minute conversation between an alleged Georgian Interior Ministry official and a Chechen hired killer in June 2006, in which the two men go over methods of assassinating Patarkatsishvili.
There has been no independent verification of the tape's contents. Two men can be heard speaking in Russian with Caucasian accents; one claims to work for the Interior Ministry, and the other speaks about his Chechen background.
The newspaper wrote that the supposed Chechen secretly recorded the conversation; his voice can be heard more clearly than the alleged Interior Ministry official, who at one point apparently answers a phone call in Georgian.
Sounds of traffic and passersby speaking in Georgian can be heard in the background.
The two men discuss possible plans for killing Patarkatsishvili, including an attack in London or destroying the tycoon's private plane as he flies to the Black Sea coast for vacation.
"We can manage to get rid of him ourselves, because it's not a problem to get rid of his guards. But we want to do it abroad, so that the shadow does not fall on Georgia," the alleged Georgian official says, adding that Moscow would be blamed for the assassination.
"We want this man to vanish," he continues.
The Sunday Times'
article, citing only "well-informed sources," claimed the would-be hitman is Chechen warlord Uvais Akhmadov. Akhmadov later pulled out of the arrangement and informed Patarkatsishvili of the plot against him, the newspaper writes.
"I have 120 bodyguards but I know that's not enough. I don't feel safe anywhere and that is why I'm particularly not going to Georgia," Patarkatsishvili is quoted as saying.
Yesterday, Rustavi 2 reported that the alleged Georgian official in the tape is former Interior Ministry employee Gia Dgebuadze, dismissed from the ministry in April this year. The deputy prosecutor general told Rustavi 2 that the information cannot be confirmed or denied until the tape is examined.
State officials have repeatedly accused Patarkatsishvili's campaign of feigning government plots against their candidate as publicity stunts.
A representative of London's Metropolitan Police said they were not prepared to discuss the matter, and neither Patarkatsishvili's campaign team nor the Interior Ministry's spokesperson were available for further comment.
Patarkatsishvili, now based in London and Israel, has been out of Georgia since November 7, when authorities cracked down on anti-government protestors and Patarkatsishvili's Imedi TV network, and declared him wanted for questioning on an alleged coup plot. His campaign is demanding guarantees of legal and physical protection from the government before he returns to the country.
The deputy prosecutor general has since told Rustavi 2 that Patarkatsishvili is no longer a suspect in the case, and that he will not receive any guarantees beyond what is granted to all presidential candidates under Georgian law.
Last week, Patarkatsishvili's campaign released a videotaped statement from a retired army officer who claimed authorities arrested him and forced him to falsely testify that Patarkatsishvili had paid for weapons for coup plotters.
Authorities have denied that the man in the videotape was ever arrested.
This is not the first time an allegation of an assassination plot against Patarkatsishvili has been aired. In September, former defense minister Irakli Okruashvili, without evidence, accused Saakashvili and his administration of numerous crimes, including ordering Patarkatsishvili's killing. The ex-minister, once a close Saakashvili ally, was arrested two days later, sparking mass protest and galvanizing the country's opposition forces.
Okruashvili was later released on bail after recanting his accusations and confessing to corruption charges, and is now in German custody awaiting a decision on extradition.
Government officials categorically rejected Okruashvili's allegations.