Georgian tycoon on tape plotting January 6 coup attempt
By Winston Featherly and Eter Tsotniashvili
Wednesday, December 26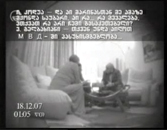 Patarkatsishvili dismisses recording as faked 'provocation,' promises to address voters' questions on television
Billionaire presidential candidate Badri Patarkatsishvili stands accused of planning a violent coup to follow the January 5 presidential election, after Tbilisi authorities released what they say is an incriminating audio tape of the tycoon speaking to an undercover agent.
Released yesterday, the audio tape—which the deputy prosecutor general says will soon be released in its two-hour entirety—was allegedly recorded when top Interior Ministry official Irakli Kodua met with Patarkatsishvili in London on December 23.
"[The opposition] had no brain. They brought 150 000 people out [for the mass November 2 rally] and allowed them to disperse," a voice allegedly belonging to Patarkatsishvili says. "People weren't standing outside to look at [opposition politicians] Levan [Gachechiladze] or Shaliko [Natelashvili], they were there for concrete action."
Patarkatsishvili apparently offers Kodua USD 100 million to publicly allege government election fraud on January 5 and then "neutralize" the Interior Minister.
In a statement released by his Tbilisi campaign office yesterday evening, Patarkatsishvili claims the Georgian government has framed him after first failing to assassinate him, and promises to go on television on December 26 with more details.
In the audio tape, Kodua explains to Patarkatsishvili that the Interior Minister is protected by a small but loyal contingent of guards, and that violence, even killings, might be necessary to take him into custody.
"Yes, I understand everything," Patarkatsishvili allegedly says. "There are ten to twenty people, and when you go in with 200 people everything will be fine."
He goes on to promise that Kodua will be hailed as a hero, after Imedi TV anchorman Giorgi Targamadze prepares a report painting Kodua's actions as acts of conscience against a repressive government.
Saakashvili's only support comes from US State Department officials Matthew Bryza and Daniel Fried, the voice adds, adding that they will abandon "their project" in Tbilisi if they must.
Patarkatsishvili allegedly jokes about Georgians' misperceptions of his reputation, which he has burnished with years of philanthropy within the country.
"I'm viewed as a lovely grandfather in Georgia, but my background should be asked about in Russia where people know me a bit differently."
Patarkatsishvili's campaign later released a security tape of Kodua being thoroughly searched by guards at the entrance to the tycoon's London mansion, presumably to imply he could not have recorded the meeting.
Deputy Prosecutor General Nika Gvaramia said that the operation was carried out with the cooperation of British authorities, opening the possibility that Patarkatsishvili could face charges or extradition from England, where he took refuge after coming under prosecution from Moscow in 2001.
Campaign head on videotape detailing plot
The day before, authorities released a secretly recorded videotape of Patarkatsishvili's campaign chief apparently trying to recruit Kodua into the conspiracy earlier in December.
MP Valeri Gelbakhiani can be seen asking Kodua to arrest the Interior Minister after the January 5 presidential election, which he said the opposition would portray as fixed.
There are 80 000 people on his campaign's payroll, Gelbakhiani says, which can be mobilized across the country within an hour.
"One word and Tbilisi is out [on the streets]," Gelbakhiani tells Kodua, head of the Interior Ministry's Special Operations Department. "Everything is prepared for January 5. It all starts from January 5."
Kodua, the Prosecutor General's Office said, had arranged the meeting after Gelbakhiani made overtures to bring him into the scheme.
Gelbakhiani requests that Kodua arrange the arrest of Interior Minister Vano Merabishvili; he later seems to add that killing Merabishvili, if necessary, would be "acceptable."
The success of their plan, Gelbakhiani continues, depends on people coming out onto the street to protest the January 5 election. "And we are preparing the people for the situation," he says.
"It is an easy thing to do. If you are well-organized, you can disrupt the entire process… you send a couple of provocateurs there, somebody kicks the box, somebody throws a lit match in it and it's all burning."
Gelbakhiani told journalists the tape was edited. He claims he was trying to convince Kodua, who Gelbakhiani says initiated the meeting, to prevent the Interior Ministry from cracking down on post-election protests as they did to anti-government protestors on November 7.
On December 25, authorities detained Marina Gabunia, a former Tbilisi judge who was at the videotaped meeting with Gelbakhiani and Kobua, on charges of conspiring to overthrow the state. Gelbakhiani is thought to be out of the country.
The videotape of Gelbakhiani, apparently recorded over two meetings in mid-December, was released one day after a British newspaper published Patarkatsishvili's claim that he was the target of an assassination plot hatched by the Interior Ministry.
The Sunday Times, which is owned by News Corp, Patarkatsishvili's business partner in his Imedi TV, released an audio tape allegedly of an Interior Ministry official contracting a Chechen warlord to kill Patarkatsishvili.
Georgian authorities have said that tape is a forgery meant to inflame the situation in the country; Gelbakhiani, in the videotaped meeting, referred to the tape as something used to "create the image" of government repression and fraud.
Acting president warns of a 'serious threat'
The National Security Council convened an emergency session December 24, as Tbilisi Mayor Gigi Ugulava denounced Patarkatsishvili as a "devil," and warned that the country is facing a "plague."
Following the National Security Council session, acting president Nino Burjanadze told the nation there is a "serious threat against Georgia."
"I have said many times there are forces preparing to thwart the January 5 election," she stated in the televised address. "Much has been done recently to intentionally build public sentiment that the election will definitely be rigged."
She promised that the January 5 election will be fairly conducted, and called on all parties to work together to avoid a return to the destabilization and bloodshed of the early 1990s. A full investigation would be made into the alleged coup plot, she added.
Other opposition politicians wary
Some other opposition politicians, rather than distancing themselves from Patarkatsishvili, cast doubt on the veracity of the tapes and the government's claims.
"I have known Patarkatsishvili for a long time," said Manana Nachkebia of the New Rights, which is backing party leader Davit Gamkrelidze for the presidency. "I'm sure he wouldn't plan to overthrow the state. He is a patriot. I suspect this tape was edited—everything is upside down right now, and no one knows what's really going on."
Conservative MP Kakha Kukava, of the nine-party opposition coalition, said that his coalition was never willing to accept Patarkatsishvili's support unless the tycoon withdrew his candidacy.
Coalition representatives met with Patarkatsishvili in London last week, and Gelbakhiani claimed in his talk with Kodua that the coalition is thinking along the same lines as Patarkatsishvili.
Kukava said the government may be framing Patarkatsishvili.
"It's possible that Patarkatsishvili was going to do this…but I suspect this [Patarkatsishvili tape] may be edited."