Ilia II marks 30 years as Georgia's spiritual leader
By Eter Tsotniashvili
Wednesday, December 26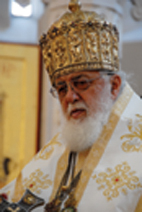 On December 25, Catholicos-Patriarch of All Georgia Ilia II marked 30 years since his accession to the head of the Georgian Orthodox Church.
Born Irakli Ghudushauri-Shiolashvili in Vladikavkaz on January 4, 1933, he succeeded Davit V, who died in 1977. Chosen as the new Catholicos-Patriarch unanimously that year on December 25, he became Ilia II. (Ilia I led the Georgian Church from 390–400.)
At that time, Georgia's church pews sat mostly empty. Even when the Patriarch himself was delivering a sermon, the attending faithful numbered in the tens.
After the fall of the Soviet Union, however, Georgia experienced a religious revival.
Ilia II now stands as the most respected person in the country. Georgians readily tick off his accomplishments: he pushed for a Georgian vernacular version of the Bible; led a growth in the number of churches and publications; and oversaw the founding of a Church radio—and later television—station called Iveria.
Three decades ago, according to Church representatives, there were less than 50 active churches. Today, there are 800. In the same period, the clergy's ranks swelled from just 40 to more than 150 000.
Ilia II also spearheaded social programs; one, announced this December, is aimed at countering a perceived demographic crisis in Georgia by encouraging families to have more children.
The Patriarch will, from now on, personally baptize the third child of every family. A Church foundation will also provide a stipend to the child until he or she turns 18.
Ilia II exerts some influence in political affairs, often appealing for calm and brotherhood in times of strife.
In 2006, a group of prisoners on hunger strike against inhumane jail conditions ended their 20-day protest after the Patriarch intervened.
He also stuck his toes into the heated political waters on October 7, when he publicly suggested a constitutional monarchy for Georgia.
"Georgians have been dreaming for 200 years to renew the Bagrationi dynasty," he declared.
Opposition politicians took this as an implicit condemnation of the strong presidency the country currently has.
And as Georgia braced itself for the mass anti-government protest on November 2, which ultimately drew upwards of 50 000 peaceful demonstrators, Ilia II called for calm.
"Do your best to work within constitutional frames," he advised opposition campaigners in a written statement. "It's necessary to create a precedent of civilized and peaceful solutions. We must all remember that our homeland stands behind us, and our activities must first of all be motivated by the interests of the state."
On December 24, in the midst of fearful uncertainty in Georgia, the country's spiritual leader urged unity and peace.
"We should think about the future, our past has already gone…there will not be enmity or vindictiveness towards each other. There is our homeland behind us, and we should forgive each other everything for the sake of our country," Ilia II declared.