He has faith and strength, but does he have the votes?
By Nino Mumladze
Thursday, December 27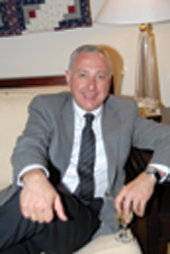 Profile: Davit Gamkrelidze
This is the fourth in the Messenger's series of profiles of the seven presidential candidates.
Biography
Full Name: Davit Gamkrelidze
Party: New Rights of Georgia
Political Office: MP, Defense and Security Committee member, and member of the delegation to NATO Parliamentary Assembly
Business Experience: Founded Aldagi, first insurance company in post-Soviet Georgia
Date of Birth: April 2, 1964
Place of Birth: Tbilisi
Education: Tbilisi State Medical University, Faculty of Paediatrics
Spouse: Marina Madichi
Children: Erekle, student in London, and Nino, in final year of school in Tbilisi
43-year-old doctor, entrepreneur, parliamentarian and oppositional New Rights leader Davit Gamkrelidze promises "new life and new thinking" if elected president.
"We have faith in God, and we have the strength," his campaign slogan declares. And Gamkrelidze says the country will need those—and him—for the long, difficult path ahead.
First foray into politics
Like many of his generation, Gamkrelidze came into politics as a newly-certified pediatrician to rid the country of its Soviet disease.
At the dawn of Georgian post-Soviet independence, Davit Gamkrelidze, along with fellow activists Gia Chanturia, Zviad Gamsakhurdia, Irakli Batiashvili and Irakli Kakabadze, was active in the National Liberation Movement working against the Soviet regime. (But unlike many of his political contemporaries, Gamkrelidze is still a force in politics. Gamsakhurdia and later Chanturia both died violently, and Batiashvili is now imprisoned.)
Gamkrelidze participated in protests leading up to the April 9, 1989 tragedy in Tbilisi, when the Soviet army brutally suppressed a large peaceful demonstration on the steps of parliament.
Later that spring, the Christian-Democratic Union—represented by Gamkrelidze and Kakabadze—became part of the newly-established National Forum coordinating the National Liberation Movement.
In June of the same year, with Soviet rule still in force in Georgia, the first delegation of the National Liberation Movement—with Gamkrelidze as a member—traveled to Paris at the invitation of the Georgian Diaspora to celebrate Georgia's Independence Day there.
After the collapse of the Communist regime in 1990 and the modern advent of Georgian independence, Gamkrelidze, sensing he had done his job, bid farewell to the National Liberation Movement.
A shift to business
Gamkrelidze and his friends soon founded Aldagi, the country's first private insurance company. Swiftly gaining flagship status in the Georgian insurance industry, company president Gamkrelidze was named among the ten most successful businessmen in Georgia in 1999.
Politics again
In 1998, Gamkrelidze was elected to the Tbilisi City Council. Then, agreeing to take part in parliamentary elections on the ruling Citizens' Union of Georgia's party list, which Gamkrelidze had never been a member of, he was elected to parliament on October 31, 1999. At the first session, his colleagues voted him chair of the Healthcare and Social Issues Committee.
But within a year, a growing fissure between Gamkrelidze and the ruling party became insurmountable. Together with Levan Gachechiladze, he resigned from parliament in protest.
The New Rights
The split gave rise to what is now called the New Rights. Drawing from the parliamentary New Faction group, the public organization New Movement and the Neo-Conservatives party, the New Rights came into existence on June 15, 2001, with Gamkrelidze as co-chair.
Within a year of its birth, the New Rights were major political players. On June 2, 2002, the party took first in local elections across the country, and third in Tbilisi. Gamkrelidze headed the party's election campaign, and was unanimously elected party chairman after its electoral success.
The New Rights performed well in the November 2, 2003 parliamentary elections, but the election's results were decried as rigged and ultimately annulled by a court—and the Shevardnadze regime was overthrown in the Rose Revolution.
The New Rights, under Gamkrelidze, did not side with the young Rose revolutionaries led by Mikheil Saakashvili, Zurab Zhvania and Nino Burjanadze.
When repeat elections were called on March 28, 2004 after Saakashvili's ascension to power, the New Rights, in alliance with the center-right Industrialists, defied expectations by clearing the seven percent threshold for parliamentary representation—the only non-revolutionary party to do so.
Gamkrelidze, who was again in charge of the election campaign, became an MP for the second time. On June 3, 2006, he was reelected as the New Rights chairman.
This all would lead him to being named in November as the presidential candidate for the New Rights, Industrialists and National Democrats.
Criticized for not backing the Rose Revolution
The most lasting criticism of Gamkrelidze and the New Rights is the decision to step aside during the 2003 Rose Revolution, rather than support the revolutionaries.
That contentious move has earned plaudits as well—acting president Nino Burjanadze once acknowledged Gamkrelidze's "constructive opposition"—but it also cost Gamkrelidze his partnership with long-time friend and colleague Levan Gachechiladze.
Gachechiladze quit the New Rights when the rest of the party refused to support Mikheil Saakashvili in his overthrow of ex-president Eduard Shevardnadze. He is now the opposition coalition's candidate for president.
The New Rights took the same stance in the tense prelude to November 2, when the ten-party opposition coalition brought out 50 000 anti-government protestors to the capital's center.
Gamkrelidze kept his party out of the coalition, urging progress through elections. His attitude changed after the violent November 7 crackdown, however, when he joined the loud opposition denunciations of Saakashvili's administration.
Gamkrelidze considers his moderation a strong point.
"A revolution has never brought evolution," he now says with considerably more confidence.
"I didn't have faith, whereas Levan [Gachechiladze] used to be more optimistic about Saakashvili being a positive factor and president for the country. After a while, Levan understood, and now he shares my viewpoint that Saakashvili should no longer be president of Georgia," Davit Gamkrelidze said on Inga Grigolia's talk show "Prime Time."
Gamkrelidze's supporters praise him for a measured, constructive approach to politics.
"Davit Gamkrelidze is the only candidate that most consecutively, most calmly, most intelligently and at the same time most correctly leads the way Georgia needs," long-time ally Irakli Kakabadze declared on Inga Grigolia's "Prime Time."
'I can do what Saakashvili can't'
While "measured and constructive," Gamkrelidze did not shirk away from declaring his ambition to put an end to Saakashvili's government—and step into his place.
"The responsibility for everything that was going on in the country in the last four years lies with Saakashvili and his government. That's why I think we should put an end to everything linked with Saakashvili and start a new life, new thinking, from the New Year," Gamkrelidze said on Prime Time.
Gamkrelidze says he has the competency to accomplish what Saakashvili has not, rattling off a list of necessary tasks to take the country toward a prosperous, Eurocentric future.
The foremost task, he says, is to bring dignity and fairness to civil society, brought about by turning Georgia into a democratic and free state. Freedom of speech will be protected under his government, Gamkrelidze promises, and the state will guarantee personal property rights and an independent judiciary.
Decentralization and local self-government are other priorities for Gamkrelidze.
National security, he says, will be secured through a sound defense strategy and effective foreign policy. Recovering Georgia's bumpy bid for NATO membership remains his top foreign policy goal, as the best guarantee for Georgian democracy and territorial integrity.
He also vows to improve relations with all neighboring countries, including Russia, with an immediate goal of securing an end to the trade embargo imposed by the northern neighbor.
The CIS peacekeeping forces in Georgia's secessionist regions should be removed, he says, and separatist Abkhazia and South Ossetia regained peacefully—all of which can be done without harming state interests, Gamkrelidze assures voters.
He pledges to decrease national unemployment to 20 percent within two years by lowering taxes, protecting private property and otherwise stimulating small- and medium-sized business growth.
It's not all free market with the self-avowed liberal conservative, however. Gamkrelidze promises to maintain Georgia's village communities by subsidizing small-scale agriculture and providing other, unnamed, incentives to village residents.
Along with that will be financial aid and free medical care aimed at boosting Georgia's declining birthrate.
Seen as a staunch advocate of the Georgian Orthodox Church, Gamkrelidze has also spoke of compensating the Church for damage inflicted by Bolshevism and carrying out social programs with the Church's cooperation.
But before Gamkrelidze begins implementing any of his campaign pledges, he says he will hold a referendum for voters to weigh in on transforming the country into either a parliamentary republic or a constitutional monarchy.
He also guarantees he won't remain in the presidency, as it now exists, for the full five-year term.
"We do support [Patriarch Ilia II]'s idea to reestablish a constitutional monarchy in Georgia… The symbol of national identity and consolidation would be the monarch, the king, who is free of any political party affiliation," a statement on Gamkrelidze's campaign website reads.
"However, if the people prefer a parliamentary republic, that will be done immediately. In both cases, constitutional reform will be carried out and new parliamentary elections will be scheduled."
Gamkrelidze predicts parliament will need six to eight months to work out a new constitution, with parliamentary elections following a few months later, he said in a December interview with the newspaper Rezonansi.
His long-term political aspirations, however, speak to the challenges the modern Georgian nation—and its leaders—now face.
"For me, victory is not just winning on January 5. After I resign from my post—I don't know in how many years—and when I'm no longer in politics, [I want] to be able to walk freely in the streets without being afraid to look into the eyes of my fellow citizens. I cannot imagine either Shevardnadze or Saakashvili managing to walk out into the street without guards."