Imedi TV suspends broadcasts
By Winston Featherly
Thursday, December 27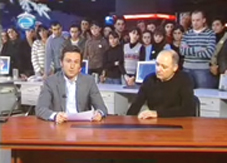 Network staff on strike until Patarkatsishvili, embattled billionaire owner, sells his shares
Imedi TV staff and management say they are trying to save the network by suspending broadcasts until founder Badri Patarkatsishvili sells his shares in the station.
"Until the troubled political situation calms down, until the network's legal status regarding ownership is sorted out, we will temporarily stop broadcasting," political news director Giorgi Targamadze announced. "This does not mean the channel is closing down. We are standing against political games."
There were at least two groups which could buy out Patarkatsishvili's shares of Imedi, Targamadze said: current co-owner News Corp, or a cooperative formed by the station's staff.
He offered no hint of when broadcasts could resume, but said they hoped a resolution could come "after the New Year."
The presidential election is on January 5, with a potential run-off two weeks later.
The announcement comes after the government accused Patarkatsishvili, the station's founder and a billionaire presidential candidate, of plotting a violent coup to follow the January 5 election.
A secretly taped conversation allegedly documents Patarkatsishvili offering top Interior Ministry official Irakli Kodua an enormous bribe to denounce the results of the election on January 5 and "neutralize" the Interior Minister.
Patarkatsishvili has dismissed the tape as a government frame-up, saying he was trying to pay off Kodua to prevent another violent crackdown on protestors.
In a statement aired yesterday by government-friendly Rustavi 2, Patarkatsishvili claimed Kodua told his campaign chief that authorities instructed him to stuff the ballot boxes to boost incumbent presidential candidate Mikheil Saakashvili to victory. Kodua wanted to meet with him, the tycoon said, to offer to expose the government's purported election fraud in return for a pay-off.
"Of course, I was guessing that this was just a [government] ploy, but if there was even a one percent chance it was true, I had to take the chance, because by doing so I could help to avert a major confrontation," Patarkatsishvili said.
"I was ready to spend great sums of money so that you don't get shot," he told viewers.
In one of the government's secretly recorded videotapes, Patarkatsishvili's campaign head allegedly speaks of Imedi TV and Targamadze as tools to create a tense background surrounding the election.
Targamadze has denied any connection to the alleged plot, and yesterday he decried efforts by big players—on all sides—to exploit Imedi for political gain.
"Imedi has recently become the main target of the political dirt which characterizes election campaigns. We want to confirm that every one of us, and our families, have become targets of pressure and blackmailing from government representatives in the last month," he said.
"We don't even have elementary guarantees of security for our journalists."
Imedi journalist Merab Metreveli spelled out the situation the station's staff have found themselves in.
"It's categorically unacceptable for us, as for every other normal person, when Interior Ministry representatives tried to commission a Chechen to murder Badri Patarkatsishvili," he said on air last night, referring to the recently published claim of a government assassination plot against Patarkatsishvili.
"The methods Patarkatsishvili wanted to use to come to power are also categorically unacceptable," he added. "The easiest way out for journalists would be leaving the channel and saving their image, but we preferred to save the channel itself."
Earlier in the day, six journalists publicly resigned from Imedi TV.
New Corp representatives did not issue any immediate comment.
A top ruling party MP, Kote Gabashvili, told the Messenger the journalists made the right decision. He did not respond to the allegations of government pressure against the network's staff.
Opposition politicians, meanwhile, met the news with a certain resignation.
"This was the right decision. These journalists are not Patarkatsishvili's own journalists, they are professionals," said Davit Berdzenishvili of the Republicans.
His ally in the nine-party opposition coalition, Goga Khaindrava, said the government is to blame for the second shutdown of Imedi TV in two months.
"There is no longer an election campaign—this is terror, and horrible things are happening now… These young boys and girls, the journalists, are under terrible pressure since November, because they were telling the truth. But it will end very badly for Saakashvili."
While Imedi TV is now off-air, Imedi Radio is continuing to work as normal, a station representative said.