In surprise turnaround, tycoon will stay in race
By Messenger Staff
Friday, January 4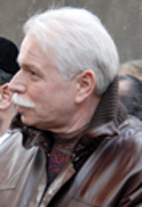 Controversial business mogul Badri Patarkatsishvili shook up the presidential campaign yet again yesterday by reversing an earlier promise to withdraw from the race.
Patarkatsishvili, in a taped statement from London, said he had been "given the power" to continue his bid for the presidency after an apolitical telephone conversation with Catholicos-Patriarch of All Georgia Ilia II.
"I confirm all my promises to the people of Georgia," he said, vowing to defeat the "criminal regime" of incumbent candidate Mikheil Saakashvili.
In an unusually strong and swift response, the Patriarchate said there were no political topics covered in the conversation between Ilia II and Patarkatsishvili, and that the Church "regrets that once again there has been an attempt to use religion within a political context."
Patarkatsishvili has pledged to spend more than USD 1 billion of his own money on social aid if he is elected president; in his statement, he said that his social spending spree would include GEL 50 in monthly unemployment benefits and buying up the entire grape and citrus harvest next year.
"Every objective poll shows that Saakashvili's support is no higher than 20 to 25 percent," he added. "That is why I'm convinced any higher result [for Saakashvili] would mean that the election was stolen."
Last week, Patarkatsishvili said he would drop his presidential bid after the government released two covertly recorded tapes of his former campaign chief, and later Patarkatsishvili himself, allegedly detailing plans for a post-election coup to a top Interior Ministry official.
Polling conducted before the release of the tapes, while varying wildly in credibility and results, generally suggested Patarkatsishvili had gained enough support to place third or fourth in the race. It is unclear how much of that support still remains, or where any lost votes would move to.
Within his campaign, the decision to stay in the race met with surprise and even condemnation from some of his staffers.
His campaign chief, Goga Zhvania, brother of late prime minister Zurab Zhvania, said he was quitting the campaign—and politics—shortly after Patarkatsishvili's announcement.
"The values of the people in Georgian politics are fundamentally different from the values I was raised with," he told Mze TV.
Heads of two regional Patarkatsishvili campaign offices, reached separately for comment yesterday, said they learned about the decision for the presidential campaign to go forward from the television. They are at home waiting for orders from the central office, they said.
Other opposition campaigners were split in responding to Patarkatsishvili's decision to run.
Representatives of the nine-party opposition coalition told journalists they are solely focused on pushing their joint candidate, Levan Gachechiladze, to victory, while Labor candidate Shalva Natelashvili welcomed Patarkatsishvili's presence on the ballot as something which would take votes away from Saakashvili.
New Rights member Pikria Chikradze told Mze TV that "voters will probably be left very confused by [Patarkatsishvili's] contradictory moves and shifting positions."
Central Election Commission representative Gizo Mchedlidze said would be no problems in printing and distributing the ballots, which still list Patarkatsishvili as a candidate.
And on January 2, with Patarkatsishvili still thought to be out of the race, his political allies in Georgia announced they would soon form a new political party, with his backing, to compete in the next parliamentary elections.