US pollster: Saakashvili poised for victory
By Winston Featherly
Friday, January 4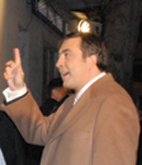 On the eve of a bitterly contested presidential election, a well-known American polling firm released survey results which suggest incumbent candidate Mikheil Saakashvili, whose campaign commissioned the poll, is well-placed for a close victory on January 5.
"I will put our global credibility on the line by saying… [Saakashvili] may well win an outright majority on January 5," Jeremy Rosner, executive vice president of Greenberg Quinlan Rosner Research, told journalists in a conference call yesterday. "And there should not be a significant sense of surprise in Georgia or the international community."
Opposition campaigners said the poll, which was carried out in early December, cannot be trusted because it was commissioned by Saakashvili's campaign.
In a "conservative" projection, the poll predicted that likely but undecided voters could hand Saakashvili a slim majority win on January 5, with 52 percent of the vote against 21 percent for opposition coalition candidate Levan Gachechiladze. The margin of error is 3.4 percent.
If no candidate wins more than 50 percent of the vote on January 5, a runoff between the top two finishers is scheduled two weeks later.
The poll suggested that Saakashvili would win with 54 percent in a runoff against Gachechiladze.
The timing of the announcement, two days before the election, may buoy the Saakashvili campaign, which has sought to prove to international observers and a skeptical electorate that tomorrow's election will be free and fair. The campaign has been criticized for abusing administrative resources and intimidating voters in its push to win a new mandate for Saakashvili, who stepped down from the presidency to run for reelection after authorities violently cracked down on anti-government protestors on November 7.
30 percent of the poll's respondents said they do not expect the election to be free and fair, while 44 percent expect it to be fully free and fair.
In face-to-face interviews with 1200 voters, the poll found 42 percent support for Saakashvili, compared to 19 percent for opposition coalition candidate Levan Gachechiladze, with a margin of error of 2.8 percent. 16 percent of voters were undecided.
Among likely voters, Rosner said, Saakashvili sees his support climb to 46 percent, with 17 percent of voters undecided and a 3.4 percent margin of error.
The poll, which put billionaire presidential candidate Badri Patarkatsishvili in third place with 11 percent, was carried out from December 5–13, two weeks before the government released a secretly recorded tape of Patarkatsishvili allegedly plotting a post-election coup.
"If anything, the results will lean even more toward Saakashvili" following the release of the Patarkatsishvili tape, Rosner predicted.
A Georgian research outfit, ACT Research, carried out the fieldwork for the poll.
Rosner, who has been hired to help the Saakashvili campaign, made an effort to explain discrepancies between his polling and that done by some local organizations, which show a much different race, by criticizing portions of their methodology. However, he also said that his poll was more conservative than many Georgian surveys in allocating undecided voter support to Saakashvili.
"Undecided [voters] somewhat tend to break against incumbent candidates," he said, adding that his poll suggests Saakashvili will pick up about a third of undecided voters when they go to the polls tomorrow.
While Saakashvili's support has fallen from the sky-high 96 percent of the vote he won in the 2004 presidential election sealing his legitimacy after the Rose Revolution, Rosner pointed out that in maintaining significant voter support three years later, Saakashvili is bucking a trend in newly independent states of voters turning sharply on incumbent candidates.
With "few exceptions," Rosner said, incumbents lose when put up for fair elections in newly independent states.
Opposition representatives dismissed the poll as partial, and pointed to some local polling which shows Saakashvili facing either defeat or a probable run-off after tomorrow.
"This is another PR push from Saakashvili," said Kakha Kukava of the nine-party opposition coalition, who had not previously heard about Greenberg Quinlan Rosner's results when reached for comment.
Kukava said that polling done by a local NGO had found less than 20 percent support for Saakashvili in Tbilisi, compared to 54 percent for coalition candidate Levan Gachechiladze. The results throughout the rest of the country cannot differ so drastically from Tbilisi, Kukava said.
The opposition coalition will rally in the capital on January 6, he said, to announce the results of their parallel vote tabulation from the day before.