Gachechiladze leads protest outside public broadcaster, claims network is biased
By Eter Tsotniashvili
Thursday, January 10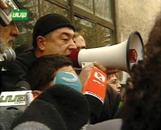 Main opposition candidate Levan Gachechiladze demanded to be interviewed live by the state-owned broadcaster yesterday as he led a protest outside the network's offices in Tbilisi.
Gachechiladze and his allies claim that the January 5 presidential election was rigged, and the country's news media is playing along with the fake results out of a pro-government bias.
Gachechiladze pledged to return to the protest every afternoon until his campaign's demands are met. He was due to begin a hunger strike but changed his mind at the last moment, saying he needed strength to continue his defense of their "stolen votes." Instead, his brother and a handful of unnamed supporters will go on hunger strike.
The head of the public broadcaster spoke with demonstrators, telling them that no one can interfere with the work of television stations.
On January 8, the public broadcaster released an official statement saying that their mission is to provide viewers with objective and balanced information, and that there is no outside interference in the editorial decisions of the network.
"Several times we offered [Gachechiladze] to make a statement to the public broadcaster that would be shown [unedited], but he refused and categorically demanded a live interview," the station said.
"We think there is no place for such categorical demands, and we restate our position once more: we are ready to give time for a live interview to any of the presidential candidates, and air their statements to our viewers without any changes, if they [do not include unconstitutional statements]."
Human Rights Ombudsman Sozar Subari, observing the rally, commented on the brighter aspects of the fiercely contested presidential election.
"The Georgian people showed a high political consciousness, and that there wasn't the traditional election outcome where one of the candidates gets 70–90 percent of the votes means Georgians control their own fate," Subari told journalists yesterday.
However, the ombudsman stressed that there were violations in the conduct of the election that must be corrected before the parliamentary elections.
"[Violations] were confirmed by all international organizations. There was also the abuse of administrative resources. This should be fixed by the next parliamentary elections," Subari added.
Yesterday, the Central Election Commission released its preliminary official results, showing incumbent Mikheil Saakashvili winning reelection outright with about 52 percent of the vote.
The protestors outside the public broadcaster, holding signs reading, "I don't believe it," are demanding a runoff in the presidential election.
The opposition coalition backing Gachechiladze has claimed the election was rigged, and is calling for a mass public protest on January 13 in Tbilisi.