Saakashvili offers places for opposition in new government
By Ana Datiashvili
Thursday, January 10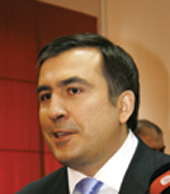 With the Central Election Commission's preliminary official results showing Mikheil Saakashvili winning reelection with 52.2 percent of the vote, the incumbent is publicly offering to bring opposition politicians into the government for his second term.
"We must build a new Georgia. Two heads are better then one, and we must unite," Saakashvili said in a January 8 appearance on the "Prime Time" talk show.
Saakashvili, acknowledging the decline in his support since first being elected president, said he is willing to open up ministerial positions—and even his inner circle—to people who are now political opponents.
Many of the most prominent opposition politicians are former Saakashvili allies.
"We will invite new faces, new professionals, and I suppose many of them will be from opposition groups. I promised the Georgian people that I would come [into a second term] with a new group," Saakashvili stated.
In a television appearance on December 28, Saakashvili specified three cabinet members—the prime minister, the justice minister and the refugees minister—who would keep their posts in any shakeup, but said he would overhaul his "revolutionary team" if he won reelection.
Yesterday, Saakashvili campaign spokesman Davit Bakradze, who is the state minister for conflict resolution, confirmed his chief's offer of the olive branch.
"There are many worthy people in the opposition as well as the majority," Bakradze told journalists. "The strength of our team depends on the situation in the country, and not personal positions."
And the situation in the country is markedly different from the position of near-unanimous support Saakashvili enjoyed after the 2003 Rose Revolution. In the January 5 election, Saakashvili has taken about 52 percent of the vote amidst weak turnout, and preliminary results show main opposition candidate Levan Gachechiladze outperforming him in Tbilisi.
Yet only months before the snap presidential election, called to shore up Saakashvili's battered mandate after authorities violently dispersed anti-government protestors on November 7, the then-president was disparaging opposition politicians as "weak" and "destructive."
Addressing his ruling party on October 16, Saakashvili said one of the country's biggest problems is the "the weakness, a real weakness, of the opposition." He proposed lowering the vote threshold for parliamentary representation from seven to five percent, with hopes that "new political groups will form…to be our honorable partners in altering political culture in the right direction."
Saakashvili is himself now facing a weakened base of support, and may need to expand the number of government stakeholders to ensure political stability.
The nine-party opposition coalition behind Levan Gacheciladze, however, has signaled no intention of accepting Saakashvili's overtures of shared governance.
Coalition member Goga Khaindrava, reached for comment last night, said it is premature for Saakashvili to even be speaking about power-sharing, because he has not been lawfully reelected.
New Rights member Manana Nachkebia, however, told Rustavi 2 that her party—which is not part of the opposition coalition—would be willing to cooperate with Saakashvili if he carries out the changes he has promised.
Some observers remain skeptical that Saakashvili will keep to his word and introduce a more inclusive style of governing.
"Saakashvili isn't making any changes to the law, he's just implementing his personal whims," analyst Ramaz Sakvarelidze said, dismissing the talk of cross-party cooperation as "part of his PR efforts."
And some of Saakashvili's supporters don't see the sense in reaching out a hand to parties which just lost an election.
"The opposition doesn't deserve to be included—they would have won the elections if they were smart enough," said Lela, a 53-year-old teacher. "I think this will be big mistake on Saakashvili's part."