Government frees jailed opposition leader
By Eter Tsotniashvili
Monday, January 14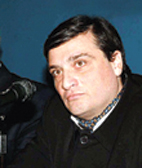 Prominent opposition leader Irakli Batiashvili, who supporters say was a political prisoner, was pardoned and released from jail on January 11 by acting president Nino Burjanadze.
He was facing a seven year sentence until Burjanadze confirmed that he would he would be released as part of a limited amnesty the government carried out over the holidays.
"We were saying that Batiashvili would be released the day after the inauguration, but after some consultations we decided it would be more humane if Batiashvili could greet the New Year with his family at home," Burjanadze said on January 11. The Orthodox Church celebrates Old New Year's today.
Batiashvili, an ex-security minister and leader of the now-defunct oppositional political movement Forward Georgia, was arrested in July 2006 on charges of giving "intellectual assistance" to rebel warlord Emzar Kvitsiani, leader of an armed insurrection in the Kodori Gorge that month.
Authorities built their case against Batiashvili on a tapped telephone conversation in which he encourages Kvitsiani to "stand firm."
Batiashvili denied the charges, calling them politically motivated. A court sentenced him to seven years' imprisonment in May 2007. Kvitsiani was never captured, and his whereabouts are unknown.
The freeing of political prisoners, particularly Batiashvili, was one of the four demands the opposition coalition made at the November 2 anti-government rally.
After his release, Batiashvili met with Catholicos-Patriarch of All Georgia Ilia II to express his gratitude for the Patriarch's moral support.
Before meeting with Ilia II, Batiashvili told journalists that attention must be paid to thousands of other "political prisoners" still behind bars in Georgia.
"I am glad that Sulkhan Molashvili and Davit Mirtskhulava [two imprisoned ex-officials who also claimed to be political prisoners before their recent release] have been freed, but we have many political prisoners remaining. It's unacceptable that a country of 4 million has 22 000 prisoners. This only happens in totalitarian states," Batiashvili said.
Batiashvili was quick to return to politics after his release, joining opposition leaders in central Tbilisi yesterday to protest the results of the January 5 presidential election.
"I'm very proud that I'm with you, my people," Batiashvili told the crowd. "[I'm] with the people who were fighting for Georgia's democracy. We spent April 9 [1989, when Soviet troops killed protestors in Tbilisi] together."
Encouraging the demonstrators to fight for justice through peaceful means, Batiashvili said that their victory was only a matter of time.
"No one can intimidate us, not even with weapons or gas," he declared, adding that he was certain all remaining political prisoners would be released soon.