Thousands rally in central Tbilisi to protest Saakashvili victory
By Winston Featherly
Monday, January 14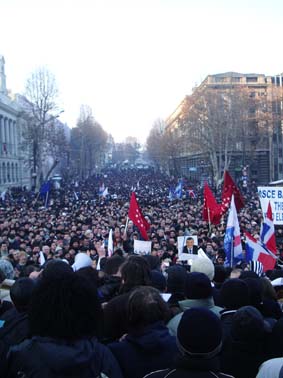 At least 10 000 opposition supporters rallied in Tbilisi yesterday, to protest the reelection of Mikheil Saakashvili in what they say was a rigged vote.
Earlier yesterday, a split Central Election Commission (CEC) approved the final results of the January 5 presidential election by a majority vote. Saakashvili was reelected with 53.47 percent of the vote, nearly 70 000 votes over the 50 percent mark he needed to beat to avoid a runoff. Turnout, just over 56 percent, was relatively weak.
The opposition representatives on the CEC, six out of thirteen, refused to sign off on the final results.
More than 10 000 demonstrators packed into a central Tbilisi square where opposition leaders, speaking from a converted military truck adorned with an effigy of Saakashvili, decried last week's vote as rigged and demanded a runoff.
"A lot of people say these protest rallies are useless, but this is our main weapon," Conservative Zviad Dzidziguri told the crowd. "I want to tell [the international election observers] to be more clever, because a million people voted for Gachechiladze and when you declare that Saakashvili won the election, you declare that you don't care about Georgia."
Levan Gachechiladze, backed by the nine-party opposition coalition, took second place with 25.69 percent, or about half a million votes, according to the CEC's final figures.
Opposition leaders claimed about 100 000 of the voters came out in protest yesterday.
Dzidziguri also called for a consumer boycott, a novelty for Georgia, of Coca-Cola and Natakhtari. He said both companies gave heavily to the Saakashvili campaign.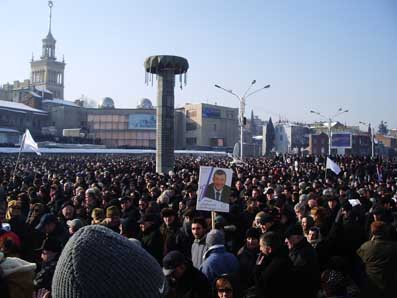 Joining the opposition coalition were leaders from the Labor and New Rights parties, among others. The New Rights had previously stayed out of most protests.
Giga Jokhadze, an opposition supporter from Tbilisi, said he is certain the election was far from free and fair.
"We're not demanding anything special, we just want a runoff," he said. "Everyone knows that Saakashvili lost this election."
The OSCE election observation mission's preliminary report said the election was "in line with [international] commitments and standards for democratic elections," and that the voting process went well in the vast majority of polling stations observed.
But the preliminary report also included criticisms of the campaign environment, the courts, the broadcast media and CEC members; all had documented instances of favoring Saakashvili over his opponents, the report said.
The OSCE's preliminary report also stated that a "significant number" of observers called the precinct vote counts "bad or very bad."
Despite the irregularities, most local and international observer groups concluded the election was essentially valid.
There was some evident frustration with observers' validation of the election. One banner declared, "OSCE backs the rigged elections."
"America! Open your eyes!" another exhorted.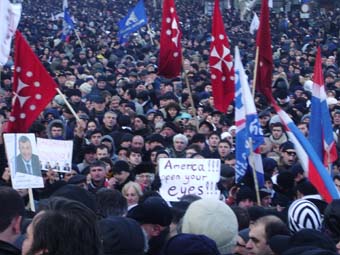 Matthew Bryza, the US State Department's top envoy for the region, was also a target of some criticism. One banner accused him of personally supporting "anti-democracy in Georgia," and coalition representative Tina Khidasheli told the state-owned public broadcaster that Bryza's friendship with Saakashvili was being put ahead of Georgia's interests by Washington.
Opposition leaders said they would stage another protest on January 15 outside the public broadcaster, which they have accused of favoring Saakashvili in its news coverage.
The CEC and the courts have both rejected the vast majority of complaints filed with them. The CEC ultimately annulled the results of five precincts, and Georgian courts annulled vote counts from another seven. Copies of some of those precincts' protocols, posted on the CEC website, showed serious discrepancies in tallies and clear attempts to rewrite or add digits.
CEC chair Levan Tarkhnishvili said the rest of the opposition's claims of irregularities, even if upheld, could not annul enough votes to overturn Saakashvili's outright majority win.
But demonstrators yesterday did not look set to back down, leaving no end in sight for the political unrest of the last several months. Before supporters peacefully dispersed after marching down Rustaveli Avenue, opposition leaders vowed to stop president-elect Mikheil Saakashvili from taking his second oath of office.
His inauguration is due in a week.
"The elections were rigged," said protestor Jumber Jikidze. "If [Saakashvili] is inaugurated, Georgians won't accept him as their president."
Eto Tsotniashvili contributed to this article.