CEC criticized as opposition ready more protests
By Messenger Staff
Tuesday, January 15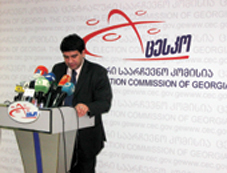 Opposition leaders reiterated vows to stop the inauguration of president-elect Mikheil Saakashvili yesterday, while three local NGOs criticized the Central Election Commission's handling of the post-election process.
The International Society for Fair Elections and Democracy, the Georgian Young Lawyers' Association and Transparency International-Georgia, in a joint statement, said the Central Election Commission (CEC) had illegally signed off on the final results of the January 5 snap presidential election without considering the hundreds of violations and complaints lodged by observer organizations.
While all three groups had judged the voting to be essentially fair and valid, they have been critical of the CEC's refusal to consider most post-election complaints.
GYLA says it submitted more than 200 official complaints, almost none of which were considered before the CEC officially validated Saakashvili's victory on January 13.
The CEC has rejected many of the complaints on procedural grounds.
Also yesterday, Tbilisi City Court rejected election complaints filed by New Generation-New Initiative, another local observer group, and GYLA, citing procedural errors in the plaintiffs' cases, according to the online news source Civil.ge.
CEC chair Levan Tarkhnishvili has said the voting and the counting were both fair and transparent, and that the opposition does not have enough evidence to back up its allegations of fraud.
The OSCE election observation mission's preliminary report said the election was "in line with [international] commitments and standards for democratic elections," and that the voting process went well in the vast majority of polling stations observed.
But the preliminary report also included criticisms of the campaign environment, the courts, the broadcast media and the CEC; there are documented instances of all favoring Saakashvili over his opponents, the report said.
The OSCE's preliminary report also stated that a "significant number" of observers called the precinct vote counts "bad or very bad."
But addressing journalists on January 13, as he celebrated the Orthodox New Year's Eve at a home for pensioners, incumbent Mikheil Saakashvili lauded the January 5 vote as the "most democratic election" in Georgia's history.
The president-elect, speaking of his "clear mandate" from Georgians, repeated his earlier calls for more political dialogue and consensus in the country.
Opposition leaders have rejected Saakashvili's overtures of compromise, which include offers of government positions to political opponents, as without value and coming from someone who was not legitimately reelected.
Representatives of the nine-party opposition coalition met with the foreign diplomatic corps yesterday evening to share their allegations of election fraud.
Opposition member Gia Tsagareishvili told Rustavi 2 that Tbilisi and other Georgian cities can expect more mass demonstrations to prevent Saakashvili from "usurping power."
Fellow coalition leader Kakha Kukava said that Saakashvili's campaign faked 400 000 ballots, and repeated earlier vows that the president-elect will not be inaugurated in the capital.
Foreign diplomats, however, confirmed they would attend Saakashvili's inauguration.
Thousands of demonstrators gathered in central Tbilisi on January 13 to condemn the election as rigged and demand a runoff. Estimates of the crowd size ran from more than 10 000 to as high as 100 000.
"A lot of people say these protest rallies are useless, but this is our main weapon," Conservative Zviad Dzidziguri, a member of the nine-party opposition coalition, told the crowd. "I want to tell [the international election observers] to be more clever, because a million people voted for Gachechiladze and when you declare that Saakashvili won the election, you declare that you don't care about Georgia."
There was visible frustration with the international community, with protestors holding aloft banners declaring that the "OSCE backs the rigged election" and exhorting America to "open [its] eyes."
Yesterday, US President George W Bush called Saakashvili to congratulate him on his reelection. According to a transcript on the White House website, US National Security Advisor Steve Hadley told reporters, "It's pretty clear that [Saakashvili] won more than 50 percent, and therefore, avoided a second round. And that's really the judgment that's been reached by Georgian authorities and international authorities."
Saakashvili indicated he would "reach out" to the opposition in search of consensus, Hadley added.
The opposition plan another protest this afternoon outside the state-owned public broadcaster, which they say has been biased in favor of Saakashvili. An OSCE media monitoring report agreed that most Georgian television networks, including the public broadcaster, were unbalanced in their coverage and policies.