Prosecutors: Patarkatsishvili wanted
By Eter Tsotniashvili
Thursday, January 17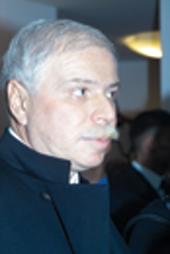 The Prosecutor General's Office declared yesterday that Badri Patarkatsishvili, the prominent Georgian business mogul who recently ran for president, is wanted on charges of conspiracy.
Patarkatsishvili, who currently divides his time between London and Israel, was sentenced to two months' pre-trial detention the same day. He has been out of the country since anti-government protests in November.
On January 10 he was charged with conspiracy to overthrow the state, conspiracy to commit assassination and plotting terrorist acts in Georgia.
The Prosecutor General's Office released a secretly-recorded audiotape in late December of the businessman apparently offering a high-ranking Interior Ministry official a bribe to denounce the recent election results as rigged and "neutralize" the Interior Minister.
Patarkatsishvili later admitted to having the conversation, but claims the tape was edited to twist around his words; the bribe was to stop Interior Ministry forces from firing on demonstrators after the election, he said.
A statement on the website of the Prosecutor General's Office said Patarkatsishvili was sentenced to pre-trial detention on the basis of the tape.
Patarkatsishvili's Georgian lawyer Shalva Shavgulidze said he will appeal the decision, claiming that the charges brought against the businessman are politically motivated.
Speaking to online news source Civil.ge early yesterday, he said an extradition request for his client could come if the Court of Appeals upholds the pre-trial detention and Patarkatsishvili is put on a wanted list. Patarkatsishvili was declared wanted by the Prosecutor General's Office hours later.
If an extradition request is submitted to the UK, both the British judiciary and the Home Secretary must review the case, with time taken to rule on extradition requests varying according to the complexity of each case.
The Prosecutor General's Office says any extradition request would come only after following formal procedures to determine Patarkatsishvili's whereabouts.
The charges against Patarkatsishvili individually carry sentences ranging from five to twenty years' imprisonment.