Heir to the Georgian throne dies in Tbilisi
By Messenger Staff
Friday, January 18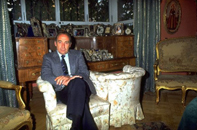 Giorgi Bagration-Mukhraneli, a claimant to the head of the Royal House of Georgia, died January 16 at the age of 63.
He grew up in Spain, the son of Irakli Bagration-Mukhraneli, a prince of the Mukhrani branch of the royal family who was forced to leave Georgia in the 1921 Red Army invasion. He has claimed the headship of the Bagrationi dynasty since his father's death in 1977.
Bagration-Mukhraneli made his first trip to Georgia in 1995 to bury his father's ashes, but revisited the country several times and had returned to Tbilisi shortly before his death.
In the last few turbulent months of 2007, the idea of reinstating the Georgian monarchy came to the fore, when a coalition of opposition parties demanded the abolition of the presidency. Some politicians suggested reinstating the royal family and turning the country into a constitutional monarchy.
Catholicos-Patriarch of All Georgia Ilia II highlighted the issue in an October sermon, commenting that it was "the dream of the Georgian people to have this [Bagrationi] dynasty restored."
However, the Patriarch stopped short of calling for the immediate establishment of a constitutional monarchy, saying if this scenario is pursued, the first reinstated monarch should be prepared for the role from birth, thereby ruling out any of the current claimants.
His death is likely to see wrangling within the Bagrationi dynasty over who is the most legitimate claimant to the headship. One of his children—he has a son who currently resides in Georgia—may follow in the footsteps of their father and make a claim to the headship.
Giorgi Bagration-Mukhraneli's body will lie in state at Sameba Cathedral until January 19. His funeral will be held on January 20, when will be buried in the patriarchal Svetitskhoveli Cathedral.