Opposition issue ultimatums before Saakashvili's inauguration
By Eter Tsotniashvili
Friday, January 18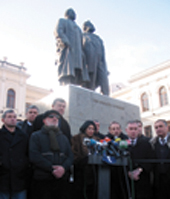 There is no compromise in sight between the government and the opposition, which again labeled president-elect Mikheil Saakashvili "illegitimate" just days before he is to retake office.
"We do not recognize the legitimacy of the election or the legitimacy of the president-elect. We reject any kind of dialogue with him as well as any government posts offered by these authorities," leaders of the nine-party opposition coalition said in a joint statement next to parliament yesterday.
Saakashvili has said he is ready for political dialogue, with his party suggesting it is ready to give government posts to opposition leaders.
The opposition left open the possibility of continuing talks with acting president Nino Burjanadze, who is expected to return to her former position as speaker of parliament after Saakashvili takes office. Ongoing dialogue between her and opposition leaders led to the first major post-election compromise, restructuring the state-owned public broadcaster's management to include political appointees.
Yesterday, the coalition addressed its set of "categorical demands" to parliament, casting it as a legitimate body in contrast with the "illegitimate" president-elect.
They demanded, among other things, that parliament bring a stop to "political persecution" and exert control over law enforcement agencies; create a balanced Central Election Commission (CEC) with the chair agreed upon by all sides; and give the opposition some say over the public broadcaster's coverage.
"The government should fulfill these demands, which are the people's demands and not mine," former coalition presidential candidate Levan Gachechiladze told journalists. "If they don't make a free television station, a free court and a balanced CEC, then they will get public protests and face serious problems."
Saakashvili's inauguration is on January 20, and Tbilisi City Hall have banned protests that day in the capital's center, saying the event and a planned military parade will take up every available open space. Instead, the opposition will stage a rally at the Hippodrome, a recreational area in Saburtalo district.
Representatives of the company which owns the Hippodrome say they learned about the rally from the television, but would not be against a demonstration on the public portion of the territory.
Opposition coalition representative Kakha Kukava ruled out marching the rally toward the inauguration and military parade, which the opposition labeled a "provocation."
"We will not confront tanks and armies [in the military parade], because we don't want to destroy this government physically, but politically," Kukava said.
Opposition leaders have given mixed signals about their plans for the spring parliamentary elections, which they contend could be fraudulent if changes in election administration are not made. Kukava pinned much of the blame for the contested presidential election results on CEC chair Levan Tarkhnishvili, repeating earlier calls for his prosecution.
"When we are protesting, that is still a preparation for parliamentary elections, but our main demand is to send Tarkhnishvili to jail. When I demanded to review the election results, especially in the regions where voter turnout was 100 percent, Tarkhnishvili was against it. If he can't prove that there was really 100 percent turnout, I assure you, he will go to jail," Kukava warned.
Ruling party MP Davit Kirkitadze said the government is still open to political dialogue, leaving the choice to continue negotiations up to the opposition. Asked about the opposition's list of demands, he said that "those demands which are also the people's demands would be met."