Saakashvili inaugurated as opposition protests
By Winston Featherly
Monday, January 21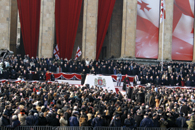 Mikheil Saakashvili was sworn in for his second term as Georgia's president yesterday, while opposition campaigners rallied to protest what they say was a rigged election.
The hour-long inauguration ceremony on the steps of parliament was a dramatic milestone for Saakashvili, who came to power four years ago buoyed by high hopes but cut his first term short after alienating many Georgians with drastic reforms and strong-armed decisions.
Soldiers cradling American-designed rifles shuffled against a light snowfall, standing in wait for a military parade following the president's address. Visiting dignitaries sat opposite an invitation-only standing crowd of a few hundred citizens, as Saakashvili approached the podium accompanied by his wife and two young sons.
"You have chosen a united Georgia, a Georgia without poverty," Saakashvili declared. "This election produced one winner—the Georgian people."
Saakashvili's supporters agreed, saying it was time to end the rancor and aggression marking the political turmoil of the last few months.
"I want to tell the opposition to stand with us, because Georgia is ours as well as theirs. We don't need more confrontation," Davit Jokhadze, a voter from Tbilisi, said. "You heard the president offer them his hand—what else do they want?"
Saakashvili won the January 5 snap election, called after a violent police crackdown against anti-government demonstrators in November threw Georgia into crisis, with about 53 percent of the vote. He needed more than half the vote to avoid a runoff against his closest competitor, Levan Gachechiladze, a businessman backed by the nine-party opposition party who won nearly 26 percent of the vote.
All six opposition candidates allege election fraud, and none have recognized Saakashvili's victory.
Local and international observer organizations widely deemed the election to be essentially fair, but an OSCE/ODHIR interim report released January 19 highlighted significant instances of suspicious irregularities, and was heavily critical of ballot counts and legal considerations of electoral complaints.
In a January 19 press conference, US Deputy Assistant Secretary of State for European and Eurasian Affairs Matthew Bryza said a US investigation concluded there had not been "large-scale fraud that altered the outcome of the election."
"Certainly we're disappointed by reports of…significant irregularities, serious problems in vote counts," he said, urging all parties in Georgia to take "every conceivable step to make sure the parliamentary elections are free and fair and that the procedures are much improved."
Bryza, who the opposition personally accused of favoring Saakashvili over democracy in Georgia, also clarified comments made the day after the election which he suggested were intentionally misinterpreted by the Georgian media. On January 6, before the OSCE made its first public assessment of the election, Bryza was widely quoted, in translation, as saying Saakashvili had won a "fair" victory.
"I said [on January 6] that if the election was free and fair then every Georgian has a responsibility to honor the results," Bryza stated. "[And] if the election was not free and fair, then Georgia would find itself in the same situation as November of 2003."
The reference to November 2003, the date of the Rose Revolution which brought Saakashvili to power, is a strongly-worded cautionary statement not previously reported in Georgia.
In his half-hour inauguration speech, Saakashvili sounded conciliatory notes in addressing an opposition which has accused him of dictatorial tendencies and political persecution.
"I want to thank the opposition, because without dissenting opinion, there is no freedom," Saakashvili stated. "The goals which unite us are far more important than any disagreements which may divide us."
Saakashvili has previously suggested he is ready to offer government posts to individual opposition leaders, an overture they have flatly rejected as coming from an "illegitimate" leader. His post-election tone toward the opposition is in sharp contrast to comments made during his first term, when Saakashvili frequently disparaged opposition politicians as weak and ill-intentioned.
Saakashvili has said he realizes his sharp drop in support at the polls—his 53 percent victory amidst weak turnout is a far cry from the 96 percent of the vote he won in 2004—means he will need a more inclusive second term which pays greater attention to the country's poor and marginalized voters.
As Saakashvili took his oath of office, tens of thousands of opposition supporters gathered in the Tbilisi suburb of Saburtalo to protest Saakashvili's inauguration and demand reforms to election administration and the Georgian courts.
"We don't need negotiations [with the government]," former opposition coalition presidential candidate Levan Gachechiladze told the crowd. "For the sake of the Georgian people, there must be justice, fair elections and a free media. If there aren't fair elections and a free media, there will be no [parliamentary] elections and we reserve the right to rename our [coalition] the 'United People's Revolt.'"
Salome Zourabichvili, an ex-foreign minister and a leader of the coalition, called Saakashvili a "de facto president" holding a "de facto inauguration ceremony." Other speakers spoke of civil disobedience campaigns, vowing to peacefully force Saakashvili out of office.
Some opposition leaders had sent more moderate signals over the weekend, describing spring parliamentary elections as the "second round" of voting they had demanded after alleging Saakashvili cheated to win without a runoff. Yesterday evening, however, coalition leaders were giving mixed answers on whether they are ready to transition from street protests to an election campaign.
"We're always ready for any elections, including parliamentary. We're continuing to struggle against injustice, but it doesn't mean we're declaring an election boycott," Republican leader Tina Khidasheli commented last night. She declined to say whether the nine-party coalition would compete in the elections as a single bloc.
Conservative Kakha Kukava, however, whose party is allied in parliament with Republican MPs, said the coalition would stay together for the parliamentary elections, but that they won't begin an election campaign until Speaker of Parliament Nino Burjanadze meets their demands, which he said include a recount of the votes and the resignation of key government figures.
The opposition is addressing its demands to parliament, which it casts as a legitimate body in contrast to the president. Opposition leaders roundly rejected the possibility of direct negotiations with Saakashvili.
Eter Tsotniashvili contributed to this article
.