OSCE interim report details election shortcomings
By Alexander Ward
Monday, January 21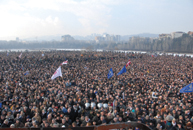 An OSCE/ODIHR interim report released last week lists vote counting irregularities and unusually high turnout at some polling stations as some of the shortcomings of the recent presidential election.
It comes nearly two weeks after the OSCE deemed the election "in essence" consistent with European democratic standards, although acknowledging "significant challenges" were revealed requiring urgent consideration, in preliminary conclusions released January 6.
The government dismissed the report as detailing only "technical" shortcomings that will be resolved before parliamentary elections, before releasing a statement to counter the OSCE's findings.
The interim report says that nearly a quarter of vote counts observed were assessed as "bad or very bad," and highlights inconsistencies between tabulation protocols at the precinct and district levels.
The tabulation process at the district level was "slow, not very well organized and often chaotic," the report says, and criticizes the election administration "at all levels" for not responding properly to complaints of irregularities.
"There was an apparent avoidance to substantively consider complaints," the report reads.
It also criticizes the Central Election Commission for failing to apply uniform procedures in ruling on ballot validity, citing cases of identically marked ballots which raise a "suspicion of wrongdoing," as well as suspiciously high voter turnout, with 23 polling stations registering 100 percent turnout and a further 205 reporting figures over 90 percent.
A significant number of polling stations, the report adds, claimed to have unusually high turnout in the last three hours of voting.
Opposition politicians have seized on the OSCE's statements. Republican Party MP Tina Khidasheli said the report was in line with the opposition's complaints, and added weight to their demand for a second round of voting.
The government quickly responded to the report, releasing an "information note" conceding that the election was "not perfect" and acknowledging the existence of "some deficiencies in our electoral system."
The government statement goes on to address each of the OSCE's points, directly rejecting some and claiming that many of the cited irregularities affected a negligible number of votes.
It also claims that high voter activity in the final hours of voting was down to multiple voting booths at polling stations and the legal right of precincts to remain open beyond the official closing time, if voters are still queuing.
Opposition Conservative MP Zviad Dzidziguri said the government's stance on OSCE reports was contradictory, having previously welcomed the OSCE's preliminary conclusions on January 6.
"When the OSCE presented the first [January 6] report the government approved, but now when [the OSCE] release another report that is very close to reality they don't like it," he said.