NATO ambitions high on agenda in Saakashvili's second term
By Messenger Staff
Tuesday, January 22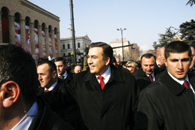 As President Mikheil Saakashvili begins his second term in office the question of NATO is sharply in focus, with official plebiscite results revealing that over three quarters of voters back Georgia's integration into the alliance.
Troops clutched brand-new American M4 rifles at the inauguration military parade on January 20—distributed just days before to replace their aging Kalashnikovs—a stark reminder of Georgia's NATO ambition.
While Saakashvili's "outstretched hand of friendship" to Russia was a key part of his inauguration speech, he also said that integrating into Euro-Atlantic structures would be pursued "with even firmer steps," in his second term.
"Our armed forces have received new armored vehicles, new artillery, which meet NATO and western standards," Saakashvili announced on January 18, the same day the Central Election Commission released official plebiscite results showing that 77 percent of voters back the country's aspirations to the military alliance.
In his inauguration speech, Saakashvili suggested that Moscow did not need to view Georgian NATO accession as a threat.
"Our Euro-Atlantic orientation is not contrary to the interests of any of our neighbors. It doesn't go against any of them, and it is not intended to alienate them," he said, with the Russian foreign minister seated with other visiting dignitaries behind Saakashvili.
US Deputy Assistant Secretary of State for European and Eurasian Affairs Matthew Bryza reiterated Washington's position at a press conference over the weekend. "Nobody should have any doubt on our deep support for Georgia in every way, especially in its NATO aspirations," he told journalists.
Polish President Lech Kaczynski said Poland's support for Georgia's NATO ambition had not waned, adding "we do not hide this."
However, opposition figures such as Ivaliane Khaindrava maintain that the events of November 2007, when police violently dispersed an anti-government protest, will have consequences for Georgia at the spring NATO summit in Bucharest, where it still publicly hopes to receive a Membership Action Plan (MAP)—the next step toward NATO integration.
Yesterday Estonian President Toomas Hendrik Ilves said that Estonia is still in favor of giving Georgia a MAP, but added that "November 7 did a lot of damage to Georgia's reputation."
[Read an exclusive interview with President Ilves in Friday's edition of the
Messenger
.]
US diplomat Bryza said it is "impossible to predict" what will happen at the summit, but pointed out that the conduct of upcoming parliamentary elections, expected to be held in spring, will have a "major impact" on the alliance's assessment of Georgia's democratic progress.