Tbilisi draws up 'road map' for better relations with Moscow
By Messenger Staff
Wednesday, January 23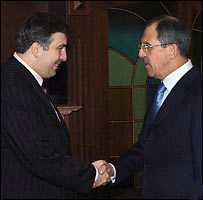 As part of Tbilisi's overtures to Russia for better relations during Mikheil Saakashvili's second presidential term, the government announced yesterday it will draw up a "road map" within weeks, outlining a plan of action.
Acting foreign minister Gela Bezhuashvili said yesterday that compromises and concessions should be made by both governments, but not "at the expense of national interests."
"In the next two to three weeks we will present our vision in writing, let's say, we will present our road map for improving Georgian-Russian relations. However, nothing can be achieved without reciprocal steps," he told journalists.
He specifically called for the removal of obstacles to parity in relations, including lifting the economic embargo that Moscow has imposed on Georgia since 2006, and reopening the border.
The embargo has dealt a severe blow to winemakers, as the Russian market formerly bought most of Georgia's wine exports.
In his January 20 inauguration speech President Saakashvili extended a "hand of friendship" to Russia, while reiterating Georgia's commitment to integrating into Euro-Atlantic structures. "It is my hope that together with our friends in Russia, we can walk down this path of change together—in a spirit of mutual respect, camaraderie and shared gains," he declared.
The same day Russian Foreign Minister Sergey Lavrov, who attended the inauguration ceremony, said Moscow is ready to move from words to actions on improving relations with Georgia.
After talking with the foreign minister, New Rights opposition party leader Davit Gamkrelidze said that Russia was ready to cooperate. "It's ready to lift the embargo, to improve the visa regime and to help Georgia improve relations with Abkhazia and South Ossetia," he told journalists.
Archil Gegeshidze, a political expert at the Georgian Foundation for Strategic and International Studies, said the lifting of the trade embargo is a foreseeable outcome of talks, provided Tbilisi is ready to make significant concessions.
Such concessions may include signing agreements on non-resumption of hostilities in the Abkhaz and South Ossetian conflict zones, he said.
Tbilisi sees a non-resumption of violence pact as entrenching the separatist regimes and has always refused to sign such an agreement in the past.