Hundreds protest outside US embassy
By Messenger Staff
Wednesday, January 23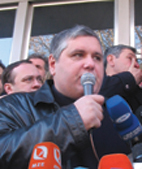 A few hundred protestors rallied outside the US embassy in Tbilisi yesterday to accuse Washington of implicitly backing election fraud in Georgia.
"Fraud and violence could not have won in this country without the strong support of the US administration," People's Party leader Koba Davitashvili reportedly told demonstrators.
In response to the rally outside its gates, extremely unusual in Georgia, the US embassy closed its consular section for the afternoon.
Speaking to the Messenger later in the day, Davitashvili, a leading member of the opposition coalition, was more moderate in tone.
"Unfortunately, I see that representatives from other countries—and especially from America—did not verify that the election were falsified, even though they could have spoke up about violations during the election or after the election," he said. "It's our mission to send a message to American society, which sometimes wrongly thinks that everything is okay here in Georgia."
President Mikheil Saakashvili narrowly won reelection on January 5 without a runoff. The opposition say the presidential election was rigged, and refuse to recognize Saakashvili as a legitimate winner. International organizations and foreign governments have broadly endorsed the election results as valid.
Opposition leaders and their supporters have shown some frustration with the West, unusual for a country solidly appreciative of the government's Euro-Atlantic orientation.
Banners at a January 13 protest attended by tens of thousands accused Washington of supporting "dictatorship" in Georgia by favoring Saakashvili.
In a January 19 press conference in Tbilisi, Matthew Bryza, the US State Department's top envoy for the region, emphasized that it is "not the individuals that matter [for the US], it's Georgia and Georgian democracy."
"Our focus is not on taking emergency steps to improve our reputation in Georgia," he said. "I think the Georgian people know that no country, I would argue, has done as much as we have [for Georgia]."
Bryza also addressed personal attacks that opposition campaigners have made against him, including dedicating a 'museum of lies' to the diplomat, containing what they say is evidence of ballot fraud from the presidential election. Opposition leaders allege Bryza's personal relationship with Saakashvili is partly responsible for Washington's support for his administration.
Describing the attacks as "extremely entertaining" and "a bit farcical," Bryza dismissed the suggestions of an invalid election and an outsized role for himself in American-Georgian relations.
"Are Georgians' commitment to democracy so fragile that they could possibly believe that some humble American diplomat could have played any direct role in their own determination of their political future? That's just strange," he said, before ultimately blaming the oppositions' ire on a mistranslation of his comments after the election.
Davitashvili's People Party, part of the nine-party opposition coalition which backed Levan Gachechiladze for the presidency, unilaterally organized the protest outside the US embassy.
"We spoke about this [rally]," coalition member Goga Khaindrava commented yesterday, "and the coalition decided it was not necessary to protest in front of the embassy. But there are nine parties in our coalition, and each has the right to express their opinions."
Kakha Kukava, a leader of the Conservative party which was once Davitashvili's political home, said that voters demanded the embassy protest, not politicians. He would rather negotiate with the Americans than protest their presence, Kukava stated.
Ana Datiashvili contributed to this article.