Patarkatsishvili's former campaign head charged in alleged coup plot
By Eter Tsotniashvili
Thursday, January 24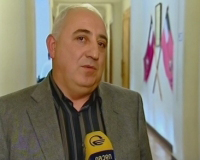 On January 22, prosecutors charged Valeri Gelbakhiani, an ally of fugitive tycoon Badri Patarkatsishvili, with plotting to overthrow the government in a post-election coup.
In late December, authorities released a secretly recorded videotape of Gelbakhiani allegedly detailing a post-election coup plot orchestrated by Patarkatsishvili, who was then running for president.
Gelbakhiani, an MP and one-time head of Patarkatsishvili's presidential campaign, has been out of the country since the tape was released.
In a statement from Gelbakhiani released yesterday, according to television station Rustavi 2, the MP said he was innocent and accused President Mikheil Saakashvili of repressing his political foes.
"I can swear by God that I did not intend to commit any crime whatsoever," Gelbakhiani's statement reads.
Gocha Jojua, who took over Patarkatsishvili's presidential campaign after Gelbakhiani left, told journalists that Gelbakhiani is ready to cooperate with investigators, and that it is in the campaign's interests to know what really happened.
"It is our interest that voters should know the facts about what happened in reality. There are a lot of questions being asked by the public," Jojua said.
The Prosecutor General's Office clarified that Gelbakhiani is a suspect, not a witness.
In the videotape, aired on national television after being released by authorities on December 24, Gelbakhiani can be seen apparently asking a top Interior Ministry official to help a coup plot go forward after the January 5 election by publicly alleging election fraud and arresting the Interior Minister.
There are 80 000 people on the Patarkatsishvili campaign's payroll, Gelbakhiani said on the tape, which could be mobilized across the country within an hour.
"One word and Tbilisi is out [on the streets]," Gelbakhiani tells Irakli Kodua, head of the Interior Ministry's Special Operations Department. "Everything is prepared for January 5. It all starts from January 5."
Days after releasing that videotape, prosecutors also publicized a covertly recorded tape of Patarkatsishvili allegedly requesting the same assistance from Kodua for a coup attempt.
Prosecutors charged Patarkatsishvili with conspiracy to overthrow the state on January 10.
Patarkatsishvili, who has been out of Georgia since anti-government protests in November, is also charged with conspiring to commit assassination and planning terrorist acts. He was effectively declared a fugitive after being sentenced, in absentia, to pre-trial detention; no extradition proceedings have yet begun.
Gelbakhiani, an MP, is protected from arrest or searches without parliament's consent. Prosecutors say they have formally applied to parliament to strip Gelbakhiani of his immunity.