Bird flu fears after Turkey reports cases
Friday, January 25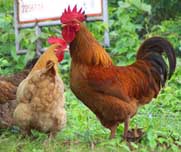 Authorities said they are taking preventive measures in Georgia to protect against the spread of bird flu after the deadly H5N1 virus was discovered on the Turkish Black Sea coast.
The Turkish Agriculture Ministry announced on January 23 that nearly 600 chickens, geese and ducks have been culled in villages near the Black Sea coast, according to Reuters.
The same day, acting agriculture minister Petre Tsiskarishvili told journalists that prevention measures were being implemented in Adjara province and that all vehicles entering the country through the Sarpi checkpoint on the Turkish border near Batumi were being disinfected.
"We are carrying out all the necessary measures to protect our territory, and we are also holding training sessions for government employees in regional departments of the agriculture ministry," he said.
Tsiskarishvili added that regional departments are fully equipped to deal with the threat, and there is a hotline which farmers can call if they suspect their fowl have been infected.
"Many dead birds have been found in Turkey over the past two days, every car is getting disinfected in Turkey and the government is taking the issue seriously," Sutic Suervoghlu, a Turkish truck driver, told the Rustavi 2 television station yesterday.
Avtandil Tsertsvadze, director of the poultry production company Koda, told the Messenger that their livestock is well-protected, and everything is being done to minimize the risk of infection.
"Our factory and our birds are protected from any external diseases, they don't come into contact with anybody," he said.
Turkey was hit by an outbreak of bird flu in 2006, in which six people died in the east of the country.
Soso Kartsivadze a representative from the Ministry of Environment Protection and Natural Resources, said that the danger is minimal as the infected birds in Turkey were domestic.
"[This] limits the risk that the virus will be brought by wild birds from Turkey to Georgia," Kartsivadze said.