Unpopular key figures gone but not far in Saakashvili's new cabinet
By Messenger Staff
Friday, January 25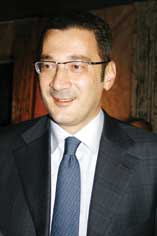 Acting prime minister Lado Gurgenidze announced a
new cabinet lineup
yesterday which slightly redraws ministries and includes some apolitical figures, but keeps many unpopular ministers within the upper echelons of the state.
"The new staff has been selected for their professionalism and their civic values, and not by political activities," Gurgenidze told journalists.
The cabinet shuffle has been heavily anticipated. President Mikheil Saakashvili campaigned for reelection partly on the promise of redoing his inner governmental team, which has drawn public unease over the years for its appearance as a tightly-knit elite.
A few of the newly-appointed ministers, in keeping with Saakashvili's pledge to find at least some nonpartisan professionals for his cabinet, are relative newcomers to the post-Rose Revolution political limelight, albeit with deep roots in Georgian governance.
Those include Gia Nodia and Temur Iakobashvili, both well-regarded academics. They are the new education minister and state minister for reintegration issues, respectively.
Both men, however, came under immediate fire for their links to a controversial election exit poll which predicted an outright Saakashvili victory on January 5.
"Nodia and Iakobashvili are not new faces for the National Movement [ruling party] at all," opposition New Rights member Mamuka Katsitadze said. "They participated in the exit polls, and after their results [Central Election Commission chair Levan] Tarkhnishvili rigged the vote results. It is shameful that they are in the government now."
Katsitadze emphasized that his party, along with the rest of the country's opposition, consider both Saakashvili and his government to be illegitimate.
Many of Saakashvili's key allies remain in government, including the widely-unpopular Interior Minister, Vano Merabishvili. Kakha Bendukidze, the man tasked with overseeing Georgia's privatization drive, was moved to the State Chancellery.
Foreign minister Gela Bezhuashvili is out, replaced by former state minister for conflict resolution Davit Bakradze.
Notably, Gurgenidze declined to say who could take up the new deputy prime minister posts, which government representatives have suggested could go to individual opposition figures.
Opposition politicians have roundly dismissed the possibility of personally accepting government posts, and Saakashvili has not offered a coalition government.
Saakashvili, who was in Strasbourg yesterday to address the Parliamentary Assembly of the Council of Europe, dedicated a portion of his speech to the new, more inclusive government he claims to want for his second term.
"Immediately after our presidential election, I reached out to our opposition parties to find ways to give them a more influential and formal role in our major institutions, including cabinet and senior level positions," he told the assembly.
"[We are announcing a] new cabinet, with fresh faces, bringing new energy, new ideas and new constituencies to power that include prominent members of civil society and the business community."
Republican Davit Berdzenishvili, a leader of the nine-party opposition coalition, said last night that Saakashvili's is falsely claiming to be compromising with the opposition through dialogue and a more open government.
"President Saakashvili stated that he has had conversations with the opposition, which is not true," Berdzenishvili said. "We see today that [Interior Minister] Vano Merabishvili is still the backbone of this government. Saakashvili is saying one thing and doing another."
The proposed new cabinet will be submitted to the ruling party-dominated parliament, where it is expected to be swiftly confirmed.