Review: "Aprili"
By Alan Blyth
Friday, January 25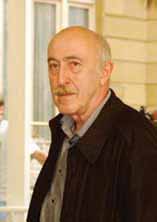 Timeless, laconic movie a gem of Georgian cinema
You really have to keep your eyes peeled for details of cultural manifestations around town or else you are likely to miss them, because there isn't a single comprehensive and reliable source of information about such things. And it was therefore purely by chance that I recently caught the screening at Cinema House of a clutch of short films made by the internationally acclaimed Georgian director, Otar Ioseliani, early in his career. These included "Aprili," a real gem of cinematic craft which he made in 1961, when he was just 27 years old.
"Aprili," with its screenplay by Erlam Akhvlediani, is a monochrome movie which mixes romance and comedy with some visual comments about life in the Soviet Union at that time. I say "visual" because there is very little dialogue in this movie. What we have is a variety of sounds accompanying various actions, and these add to the movie's charm and humor.
It starts with two young lovers (we are not told their names) trying to find a quiet corner to express their feelings for each other, but wherever they go in the town they are interrupted, principally by men in overalls and flat caps moving furniture. After a lot of frustration, they eventually find relative isolation in the countryside under the shade of an old tree.
The scene then moves to some newly built five-storey, prefabricated khrushovkas—apartment blocks dubbed after Nikita Khrushchev, who saw them as a quick and cheap way of temporarily solving the severe housing shortage at that time. Coincidentally, these khrushovkas made their debut in 1961, the year that "Aprili" was made, and the authorities continued to build them until the fall of communism. Anyway, the young couple move into one of these apartments and their neighbors include a group of musicians and a young ballet dancer and her mother. The couple are blissfully happy in their one-room apartment, and their happiness radiates from them—so much so that the gas, water and electricity respond in a simply surreal way.
Although modern, these apartments have very meager room sizes and the front doors only have a single lock. This doesn't seem to bother the couple as they sit together on the parquet because, unlike some of their neighbors, they have absolutely no possessions—just themselves. However, this domestic bliss doesn't last forever, and over time they acquire more and more furniture and chattels. As their possessions increase, they feel the need to fit additional locks and padlocks to their door and, as a consequence, their apartment becomes more like a prison.
It's clear that material possessions do not bring them happiness; on the contrary, they only lead to discontent and squabbles. Their arguments are a watershed in their relationship, and it's only by taking decisive and desperate action that they manage to regain the happiness they lost.
The young couple are played by T. Tchantouria and G. Tchirakadze, and without the benefit of dialogue they do a great job in getting their message across. The Georgian dialogue comes only at the movie's climax, and its use heightens the tension and adds significantly to the effect.
"Aprili" is very watchable with an easy-to-follow storyline, and it is undoubtedly a classic piece of cinema of its time. However, as you watch it you cannot but be drawn into it as many of the messages embedded in the movie still hold true today, and this is what makes this terrific movie timeless.