Cabinet nominees sit parliamentary hearings
By Eter Tsotniashvili
Tuesday, January 29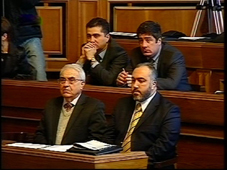 The newly-nominated cabinet came before lawmakers for committee hearings yesterday on their way to confirmation, with nominees sticking to the government's new message of a 'Georgia without poverty' but offering few details on their plans.
The parliamentary budget and finance, regional policy and healthcare committees quizzed nominees on their views and proposals as ministers-to-be.
In the televised hearings, Temur Iakobashvili, the nominee for state minister for reintegration issues (a post formerly called state minister for conflict resolution), said his brand of conflict resolution would focus on securing international assistance for the return of IDPs combined with direct dialogue with the separatist regimes.
"We can't be locked into the notion that no one pays attention to the Abkhazians and Ossetians, and that Russia simply manipulates them. Of course Russia manipulates them, but it's necessary to have dialogue [with the separatist regimes] in parallel with Russia and the international community," he said.
Iakobashvili also commented on the UN secretary-general's latest report on the Abkhaz-Georgian conflict; relations between the two sides, the report said, are at their lowest point in nearly a decade. Iakobashvili said the report was referring to a period immediately before Georgia's January 5 presidential election, and that with new political circumstances the government is doing its best to improve the situation.
The ministerial nominee said that rather than entirely removing the Russian peacekeepers from the conflict zones—as parliament decided to formally demand at the end of October 2007—a new format must "change [Russia's] mandate." He did not offer details on what a new mandate for Russian peacekeepers would entail.
He added that attention must be paid to the economic side of conflict resolution, with Abkhazians and South Ossetians encouraged to trade within Georgia rather than Russia.
Political analyst Gia Khukhashvili said some poor choices have already hurt the new cabinet's potential. In particular, he pointed out that renaming the state ministry for conflict resolution to the state ministry for reintegration issues would unavoidably be taken poorly by the breakaway Abkhaz and Ossetian leadership.
"This was a big mistake," he said, but added that Iakobashvili is a good diplomat.
Iulon Gagoshidze, the nominee for the newly-created post of state minister for diaspora issues, outlined the tasks he would undertake in the new role. The state ministry will both assist Georgians living abroad and encourage them to return to Georgia, he said.
"They should feel that they not only have a homeland but also have a state which defends their rights," Gagoshidze told parliament, pointing out that an estimated one million Georgians live abroad.
The justice minister nominee, former deputy prosecutor general Nika Gvaramia, pledged to modernize the ministry and manage infrastructural issues with Georgia's notoriously poorly-run prisons.
And health minister nominee Sandro Kvitashvili, who reportedly returned to the country yesterday morning from America for the hearings, said he would form a consultative council of doctors and industry experts to shape and propose reforms.
"I have a lot of ideas for reforms and I can't say everything here," Kvitashvili said. "But I can say that we will not be able to carry out reforms if we don't have healthy people, if we don't have employed people and if we don't have socially protected people."
Kvitashvili promised that under his leadership, the Health Ministry would be transparent and open, including for the media.
Khukhashvili, the analyst, singled out Kvitashvili and Nike Vacheishvili, the nominee for culture minister, as "bright spots" in the new cabinet.
All three parliamentary committees questioning the nominees decided to support the new cabinet; the ruling party-dominated parliament is expected to formally confirm the slate of ministers without delay.