Little light shed on Abkhaz separatist leader's Moscow trip
By Messenger Staff
Wednesday, January 30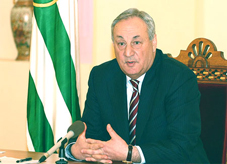 Speculation surrounds de facto Abkhaz president Sergey Bagapsh's one-day trip to Moscow, where he reportedly met Kremlin officials on January 28.
Sergey Shamba, de facto foreign minister of the breakaway region, could not give details on what had been discussed when questioned by journalists the same day.
De facto prime minister Alexander Ankvab and de facto finance minister Beslan Kubrava accompanied Bagapsh, according to Abkhaz news agency Apsnypress.
The trip comes shortly after Russian Foreign Minister Sergey Lavrov told journalists that Moscow will not immediately recognize independence for Abkhazia or Georgia's other separatist region, South Ossetia, should Kosovo receive international recognition for its own impending declaration of independence.
Lavrov's comments provoked an enthusiastic response from Tbilisi.
"We have been waiting for this statement for a long time and we welcome it," news source civil.ge quoted Saakashvili as saying the following day.
Archil Gegeshidze, a political expert at the Georgian Foundation for Strategic and International Studies, says one of the reasons for Bagapsh's trip was probably to seek clarification on Lavrov's remarks.
Abkhaz separatists have long sought recognition from Russia, and hope that an internationally recognized Kosovo could set a precedent for their own recognition.
Lavrov's recent statement was unexpected in Sokhumi, Gegeshidze says, and de facto authorities are now trying to justify their policies to a domestic Abkhaz audience.
Earlier this week, de facto Abkhaz foreign minister Sergey Shamba told journalists that Lavrov's statement implies Russia will only refrain from recognizing the breakaway regions temporarily and that Tbilisi has overstated its significance.
Meanwhile, de facto Abkhaz security council secretary Stanislav Lakoba dismissed the idea that Russian-Georgian relations may be about to improve.
"Georgia's anti-Russian position has brought it to a political crisis," he said on January 28, according to Russia's Interfax news agency, adding, "Saakashvili has been forced to turn his attention to Russia because he is frightened of a Kosovo precedent."
Both Tbilisi and Moscow have repeatedly expressed a commitment to improving Russian-Georgian relations since Mikheil Saakashvili began his second presidential term on January 20.
Saakashvili spoke of extending a "hand of friendship" to Russia at his inauguration ceremony. Lavrov, who attended the inauguration, declared afterwards that Moscow is ready to move from words to actions on improving bilateral relations.
Gegeshidze says part of the reason for Moscow's change in tack is an awareness that stability must be promoted in the Caucasus before the Sochi Olympics in 2014.
"But in the long run [Russia] also knows that it is important to have correct—not necessarily friendly—relations with Georgia, to promote its interests both internationally and regionally," the political analyst says.