Elections at ICC Georgia, the National Committee of the International Chamber of Commerce
Wednesday, January 30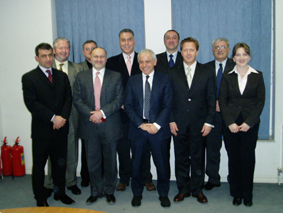 On January 28, 2008, ICC Georgia has elected a new Board of Directors:
o Chairman: Fady Asly,
Agritechnics Holding
o 1st Vice- Chairman: Gilbert Hie
,
Bank Republic (Societe Generale)
o 2nd Vice- Chairman: Gia Bazgadze,
Ernst & Young
o Board member: Burak Birhekimoglu,
Tav Urban Georgia
o Board member: Halim Daou,
CoolZone
o Board member: Nick Gvinadze,
DLA PIPER
o Board member: Giorgi Isakadze,
Federation of Georgian Businessmen
o Board member: Steve Johnson,
Hotel Betsy's
o Board member: Gia Kakabadze,
Georgian Chamber of Commerce
o Executive Director: Rusudan Dzigrashvili
Founded in 1919, ICC has been helping businesses in formulating their sound policy position at the national and international levels. Today ICC groups hundreds of thousands of member companies and associations from over 130 countries. It is a representative body that speaks out with authority on behalf of enterprises operating in various sectors worldwide.
The fundamental mission of ICC is to promote trade and investment across frontiers and encourage business corporations to meet the challenges set by thriving processes of globalization. ICC activities cover broad spectrum, from arbitration and dispute resolution to rule-setting, business self-regulation and fighting corruption.
ICC provides essential services, foremost among them the ICC International Court of Arbitration, the worlds leading arbitral institution. ICC enjoys close cooperation with the United Nations and other intergovernmental organizations, including the World Trade Organization and the G8.
To attain this objective, ICC has developed a range of activities. The ICC International Court of Arbitration is the most respected service of its kind in the world. Its voluntary rule-writing for business, spreads best practice in areas as varied as banking, marketing, and anti-corruption. (www.iccwbo.org)
"Georgia needs more than ever a vibrant and dynamic Business Organization that would work closely with the Government and different other stake holders to create the proper environment for foreign direct investment" said Fady Asly, ICC Georgia newly elected Chairman.
ICC Board will start meeting shortly with officials from Government, Parliament, political leaders as well as representatives of diplomatic missions accredited to Georgia.
The Georgian Chamber of Commerce and the Federation of Georgian Businessmen are founding members of ICC Georgia.