Electricity company denies overcharging
By Christina Tashkevich
Thursday, January 31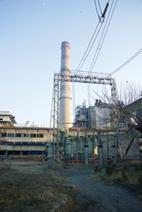 The electricity distribution company Telasi has denied accusations leveled by the Labor Party that it deliberately overcharged consumers, saying the party is "deceiving people."
On January 30 a company spokesman said Telasi sets tariffs according to Georgian law, in line with regulations of the National Energy Regulatory Commission.
Labor representatives recently claimed that Telasi deliberately miscalculated electricity bills for Tbilisi residents this January, moving all customers up into a higher price bracket per kilowatt-hour.
"The added cost for a family is, at the very least, between GEL 10 and GEL 15," Labor member Paata Jibladze said at a January 28 press briefing.
The Labor Party has also called for the former 12 tetri flat tariff to be reinstated, after it was abolished in favor of a differentiated tariff policy two years ago.
In May 2006 the National Energy Regulatory Commission passed a resolution "with the aim of increasing social protection and supporting the rationing of electricity." In line with this, Telasi began charging customers different rates according to how much electricity they use.
Homeowners using up to 100 kilowatt-hours per month pay a rate of 13.5 tetri; those using 101 to 300 kilowatt hours pay 16 tetri and those consuming over 301 kilowatt-hours pay 17.7 tetri.
"All the required information is printed on every Telasi customer bill, the company's customers are informed of all aspects of the differentiated tariff and the commission's resolution," a Telasi spokesman said yesterday.
One Tbilisi resident, 56-year-old Omar Vashakidze, does not question Telasi's integrity.
"Honestly, I've never questioned my bill, perhaps because I've never had the feeling that my bill didn't represent my electricity usage. As for the tariffs, of course less is better," he said.
Telasi has a long history of disputes with Labor party. In the past, the Labor party has accused Telasi of hiking prices at the command of its Russian owner, energy giant RAO UES.