Saakashvili says parliament to strengthen, opposition turned down ministry posts
By M. Alkhazashvili
Thursday, January 31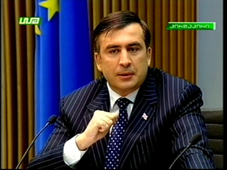 President Mikheil Saakashvili, answering questions from regional journalists yesterday in his first domestic press conference since his inauguration, said he is ready to shift power away from the presidency and onto parliament for the sake of long-term stability.
Saakashvili also said he had reached out to the opposition in the last three weeks, offering the post of healthcare minister as well as deputy premier positions and top posts in other ministries to defuse the country's political uncertainty.
"[The opposition] refused, unfortunately," he said in the televised press conference. "I understand that they have their own election tactics, and they need to campaign for the upcoming [parliamentary] elections as an opposition force outside the government."
Opposition campaigners have consistently said since the January 5 presidential election that they would turn down any offers of a stake in the government, which Saakashvili suggested could go to individual politicians, not parties.
The opposition claim the election was rigged to hand Saakashvili a win without a runoff, and say they will not negotiate with an "illegitimate" president.
On January 29, leading opposition parties issued a joint statement listing changes they say are needed to ensure free and fair parliamentary elections in the spring. The demands were addressed to Speaker of Parliament Nino Burjanadze, who the opposition have cast as the legitimate state representative they are willing to hold dialogue with.
In his press conference yesterday, Saakashvili praised Burjanadze's character and said gave her a "full mandate" to negotiate with the opposition.
Earlier, Burjanadze confirmed that consultations on the oppositions' list of demands have begun.
The opposition warn of a mass protest on February 15 if all demands are not met by then.
"It will be a repeat of [mass anti-government protests on] November 2," Conservative MP Kakha Kukava promised on January 29. "But I think that November 2 and November 7 [the date of a police crackdown on protestors] taught the government a lesson."
Saakashvili has steadfastly defended the decision to violently disperse peaceful protestors on November 7, but has said he was humbled by his margin of victory on January 5. First elected in 2004 with about 96 percent of the vote, Saakashvili took little more than 53 percent against a scattered field of opponents in the January snap election.
Yesterday, he defended the strong presidency of his first term as necessary to fix a failing state, but said the time has come to shift some of the state's powers onto parliament.
"Now we need a long-term strategy, a strong parliament… I'm determined to hand over more functions to parliament."
Saakashvili also declared faith in his newly-selected cabinet of ministers, which is expected to be confirmed by parliament this week.
"This is non-party government. These new ministers are super professionals and independent in thought," he said. The nominees include three academics without clear ties to the ruling party.
The president also told the regional journalists that local governments in the country's provinces would get more attention in his second term, suggesting that some governors would soon be replaced.
"We should revive all levels of government, central and regional. There are many governors whom people have never seen," Saakashvili said.