Bezhuashvili to lead Georgia's spy agency
By Eter Tsotniashvili
Friday, February 1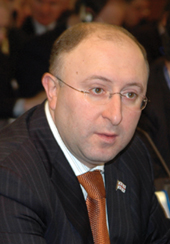 Recently-resigned foreign affairs minister Gela Bezhuashvili will be appointed head of the country's intelligence agency, ruling party lawmakers confirmed yesterday.
"Georgia's Intelligence Service should be a compact operation… [Bezhuashvili] will be very effective in this position, as he has a lot of experience," said Mikheil Machavariani, the Vice-Speaker of Parliament.
Ruling party MP Levan Bezhashvili said the Intelligence Service had a minor role in recent years, but expressed hope that Bezhuashvili would reinvigorate the agency.
Bezhuashvili began his career as a diplomat in the 1990s, eventually being appointed defense minister in the Saakashvili administration before taking the helm of the Foreign Affairs Ministry in 2005.
Bezhuashvili's departure from the ministry caught many by surprise. When naming Davit Bakradze as the new foreign minister last week, Prime Minister Lado Gurgenidze initially said that Bezhuashvili had decided to enter the private sector.
Bezhuashvili and his brother Davit are strong allies of President Mikheil Saakashvili, and political analyst Gia Khukhashvili says he suspects the president was intent on keeping the Bezhuashvili close to him.
The post is not a prominent one, Khukhashvili says, and the career diplomat is not an intuitive choice to head the spy agency.
"It's a very specific department that needs an industry professional," says Khukhashvili, adding that this may be only a temporary appointment until the parliamentary elections are past and the political lay of the land is more clear.
But Ramaz Sakvarelidze, another local analyst, says Bezhuashvili's experience in foreign affairs and defense will lend needed competence to the intelligence agency.
Security expert Koba Liklikadze says Georgian media claims that the Intelligence Service was also recently detached from the Interior Ministry to answer directly to the president are incorrect; according to him, the agency has operated independently since ex-president Eduard Shevardnadze's administration.
The previous agency head was Ana Zhvania, who replaced Batu Kutelia, now the deputy defense minister.