Government promises to bolster property rights, 'optimistic' on opposition negotiations
By Messenger Staff
Friday, February 1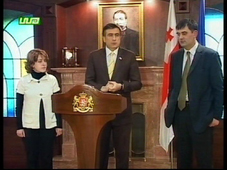 President Mikheil Saakashvili announced a new commission yesterday to consider property disputes, a key source of criticism during his first term, while the speaker of parliament said the ruling party is optimistic about negotiations with the opposition.
The commission, to be chaired by Human Rights Ombudsman Sozar Subari, will work with Prosecutor General Eka Tkeshelashvili to hear disputes over property confiscated by the state. Including government and opposition representatives as well as private citizens, the commission's decisions will be binding, Saakashvili said in the televised press conference.
"The [Ombudsman's Office and the Prosecutor General's Office] once viewed each other with suspicion, but this is over. From now on, there will be a strong relationship between the defenders and the prosecutors," Saakashvili declared.
Eka Tkeshelashvili was moved from the justice minister's post to the prosecutor's office this week, while Subari has been a fierce critic of many of the government's alleged human rights violations since his appointment in 2004.
Property rights violations have been one of the opposition's rallying cries in the last few months of anti-government protests, with numerous disgruntled citizens losing disputed property in the government's vigorous privatization drive.
The new commission will not retroactively consider disputes.
Also yesterday, Speaker of Parliament Nino Burjanadze pledged the government would select the new board of directors for the state-owned public broadcaster by the end of February.
Instituting a board of directors with balance between ruling party and opposition representatives was one of 17 demands issued by the opposition coalition on January 29. Opposition campaigners claimed the public broadcaster favored Saakashvili in its coverage of the presidential campaign; an OSCE media observation report agreed that the country's television networks generally gave more positive airtime to Saakashvili.
Burjanadze said she was optimistic about continuing negotiations with the opposition, but cautioned that not all of their demands can feasibly be met by the opposition's February 15 deadline.
"I think our colleagues in the opposition meant that negotiations [on the demands] should begin [before the deadline], since there are demands listed, like constitutional amendments, that cannot realistically be met by February 15 as they surely know," Burjanadze said at yesterday's parliament session.
Oppositional New Rights MP Manana Nachkebia confirmed that they want answers, not necessarily actions, by February 15. The opposition promise to return to the streets in large-scale protests if the government refuses to make concessions by that deadline.