Early signs of compromise in government-opposition talks
By Anna Kamushadze
Monday, February 4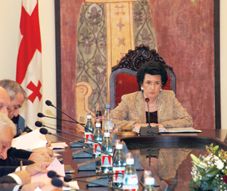 Talks between the opposition and the government have brought some small agreements ahead of an opposition-set February 15 deadline, with significant negotiations scheduled for tomorrow.
The government side was led by Speaker of Parliament Nino Burjanadze in dialogue on February 1. The opposition has addressed their statements to Burjanadze, saying they will not negotiate with President Mikheil Saakashvili, who they claim was illegitimately reelected in a rigged election.
Vice-Speaker of Parliament Mikheil Machavariani told Rustavi 2 after the February 1 meeting that the session was spent staking out positions.
"This was a summary of preliminary positions and attitudes, making the first step towards negotiations," he said, adding that both sides readily agreed on several unnamed changes.
On January 29, most of the leading opposition parties jointly released a statement setting out 17 changes they say are needed for fair parliamentary elections in spring.
If all 17 demands are not met by February 15, opposition leaders say, they will restart large-scale protests in Tbilisi.
President Mikheil Saakashvili told a gathering of regional journalists on January 30 that, while some of the opposition's demands will be considered, others represent a "return to the past" and are not open for negotiation.
Conservative MP Kakha Kukava, a member of the opposition coalition, said yesterday the government has not yet agreed to any serious concessions in the talks.
"The main thing the government has to decide is whether or not it will make concessions. I think that will become clear during the consultations [tomorrow]. If the government compromises, we will sit down together with the ruling majority to discuss our main issues. If they don't, we will sit down—but on the steps of parliament in protest," Kukava said.
The opposition should know tomorrow, he added, how many of their 17 demands will be met.
New Rights representative Mamuka Katsitadze told journalists after the February 1 meeting there were agreements reached on the state-owned public broadcaster, election commissions and electoral law.
There is no agreement in sight, however, on the opposition's demands for the resignation of the Interior Minister and a restructuring of the ministry's police forces.
MP Levan Bezhashvili, chair of parliamentary legal affairs committee, said the government supports more oversight in the ministry, but that legislation will need time to for discussion and drafting.
Bezhashvili confirmed a working consensus on a handful of issues, but said substantive negotiations will begin in the next session.
"We will be more concrete [tomorrow], as the last meeting was more of a warm-up," Bezhashvili said yesterday.