Patarkatsishvili's allies resurrect parliamentary faction
By Eter Tsotniashvili
Tuesday, February 5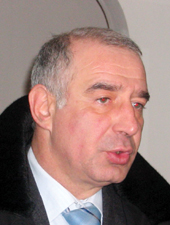 A new political faction will continue the activity of a recently disbanded group established last year to represent business mogul Badri Patarkatsishvili's interests in parliament, close political allies of the tycoon told journalists yesterday.
MP Gocha Jojua, who will head the new faction, said it may turn into a political party and campaign in the upcoming spring parliamentary elections. The name of the faction and its composition will be unveiled next week but it will "continue in the same way as before," he said.
The faction predecessor, Our Georgia, was founded in October 2007 and led by then-MP Valeri Gelbakhiani—who later headed Patarkatsishvili's presidential election campaign—but automatically dissolved on January 31 when MP Levan Gzirishvili opted out, taking membership below the ten MPs needed for a parliamentary faction.
Both Gelbakhiani and Patarkatsishvili are currently wanted by prosecutors for their roles in an alleged plot to overthrow the government.
The Prosecutor General's Office released taped evidence in December that allegedly shows Gelbakhiani discussing plans for a post-election coup with a top Interior Ministry official. He is currently thought to be out of the country, and was sentenced to two months pre-trial detention in absentia on February 2.
Tbilisi City Court froze Patarkatsishvili's assets in January, including his shares in the opposition-friendly Imedi TV, which is currently not broadcasting.
Jojua has pledged to release an "original" recording of the tape to the Georgian media, which he claims proves the innocence of Patarkatsishvili and Gelbakhiani. "What was released by the Prosecutor General is a fake, and it has been doctored very professionally," Jojua said.
He also predicted that Imedi TV will resume broadcasts within a month. "News Corp will be the owner of the TV company and it will return on air soon, it will be an independent TV company and impossible for government to buy it," the MP said.