Press Release: ICC Board members meet with speaker of the parliament
Wednesday, February 6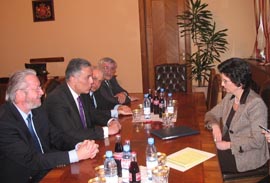 The newly elected Board of Directors of the International Chamber of Commerce in Georgia(ICC),led by its chairman Fady Asly, met with Speaker of Parliament Nino Burjanadze on February 4.
Mr. Asly stated that the fundamental mission of ICC is to promote trade and investments and help businesses and government coordinate policy and legal issues. For almost 90 years, ICC has derived its legitimacy from its presence in 130 countries and from its unswerving advocacy of open international trade and the market economy system. Mr. Asly informed the Speaker of his determination to establish ICC world-renowned arbitration court in Georgia in the near future.
Mr. Asly expressed the concerns of the Board as to the recent events that undermined the business and investment climate in the country. An open and frank discussion followed and it was agreed that political issues needed to be solved through constructive dialog between Government and opposition in order to preserve investors' confidence.
Mrs. Burjanadze welcomed the ICC Board and expressed her support and encouragement to ICC that will play a leading role in encouraging direct foreign investments in Georgia. The Speaker of Parliament assured ICC Board of her willingness to pursue dialog with the opposition and to deploy all efforts ensuring fair Parliamentary elections and rule of law.