Talks fruitless so far as opposition start petition drive
By Eter Tsotniashvili
Wednesday, February 6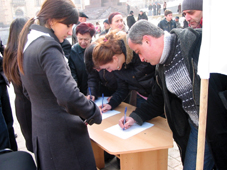 Opposition coalition campaigners sought public support in street demonstrations yesterday, while talks with Speaker of Parliament Nino Burjanadze seemed to produce few results.
Going into the meeting, the parliamentary speaker said she was optimistic about the negotiations.
"We can reach a solution that will be not any political party's interest, but the right decision for democracy," she said.
But opposition leaders came out saying the government was not ready for serious compromise.
"There are promises, but no concrete steps are being made," online news source Civil.ge quoted Conservative Kakha Kukava as saying. The opposition coalition is demanding 17 changes, from new election law to the resignation of the Interior Minister, which they say are needed for fair parliamentary elections this spring.
Earlier in the day, opposition coalition leaders gathered in front of a central metro station for the kick-off of a signature gathering effort for a partition declaring "I did not elect Saakashvili."
Coalition leaders said they will demonstrate to the international community that President Mikheil Saakashvili was not legitimately reelected by collecting signatures from citizens vowing that they did not vote for him.
"We're collecting factual evidence to prove that Saakashvili is not a legal president. If we collect more than one million signatures, that means the [majority of] people did not vote for him," coalition representative Zviad Dzidziguri said, adding that the signature-gathering campaign would continue for two months.
1.98 million voters cast a ballot in the January 5 presidential election, according to the Central Election Commission. Saakashvili narrowly won an outright majority, and the opposition claim the vote was rigged.
Parliamentary Speaker Nino Burjanadze said she did not understand the need for the opposition rallies at a time when dialogue between the opposition and the government was getting firmly underway.
"It is completely unclear for me [why there are] these permanent protests and demonstrations. There is no need for them," Burjanadze told journalists on February 4. "I want to urge everyone to continue [with dialogue], as that has more potential than boycotts, protests or issuing ultimatums."
Meanwhile, leading local businessmen met with Burjanadze to discuss the country's political tension.
Fady Asly, chairman of the International Chamber of Commerce and a part owner of this newspaper, told Rustavi 2 after the meeting that the opposition's continuing protests are harming the country's business climate.
"We met the speaker of parliament and discussed the current political situation in Georgia," Asly said, according to Rustavi 2's Georgian translation. "We are also going to meet with the opposition to explain why we are disturbed. I think protests like this will cause serious problems for Georgia's economic development, and cause poverty for which the opposition will be responsible."
But opposition member Davit Zurabishvili, of the Republicans, says the protests will continue. Demonstrations facilitate dialogue with the government, he suggested, by proving that the opposition is representing the people's opinions and not only their own.