Kazakhstani company buys Batumi oil terminal and port
By Christina Tashkevich
Thursday, February 7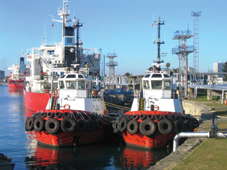 Greenoak Holdings announced February 5 it has sold the Batumi oil terminal and management rights to Batumi port to the state oil company of Kazakhstan, but continues to manage the facilities for now.
"We sold whatever rights we had been given by the government," company spokesperson Mzia Gegenava told the paper. The company bought the oil terminal in 1999, and purchased a 49-year lease to management rights of the port in 2006.
"The Kazakh government with its huge oil reserves is an excellent strategic match for securing the company's future growth and development," Greenoak Holdings CEO Mogens Hansen said.
Greenoak said February 5 that with Kazakh involvement it will be possible to have a stable flow of oil through the South Caucasus transit corridor, making thousands of jobs for Georgians in addition to the more than 2 000 employees of the Batumi terminal and port.
Greenoak Holdings has invested USD 200 million into the facilities since buying the terminal in 1999.
"Creating, developing and now selling Batumi oil terminal and Batumi sea port is a perfect example of a success story in Georgia… We took the risk and invested in Georgia," Hansen said.
The annual transhipment capacity of the terminal is now over 15 million tons.
"Batumi sea port has begun to develop along similar lines and will soon be lifting the first container in its history," Greenoak said in its statement.
Kazakh state oil company KazMunaiGas and Dutch Greenoak formed an alliance in 2006. Explaining the deal two years ago, Greenoak said Kazakhstan has sufficient oil to support both the BTC project and the terminal in Batumi.
KazMunaiGas's most recent energy deal is the purchase last year of 75 percent of shares of the largest Romanian petrol group, Rompetrol. The company also owns Kaztransgas, the gas distribution company which bought the Tbilisi gas distributor in 2006.
A spokesman for Ministry of Economic Development said they would issue a statement about the deal within the next day.