EU leaders offer support at Tbilisi conference
By Anna Kamushadze
Thursday, February 7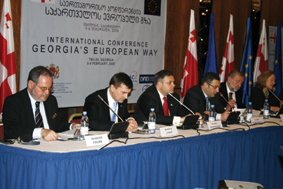 Top EU representatives joined Georgian government leaders on February 5–6 at a Tbilisi conference to discuss the country's European Neighborhood Policy action plan, offering broad assessments of Georgia's progress and promises of more European integration to come.
The conference, "Georgia's European Way," discussed topics ranging from the EU's role in conflict resolution to simplifying visa regimes.
Slovenian Foreign Minister Dmitrij Rupel, representing the EU presidency, praised Georgia's progress in the last few years.
"Georgia has had great success in development of the business environment and microfinance, in decreasing corruption. The government must work to resist poverty. That will support Georgia's general development, and the EU's help is important," Rupel said on February 5, adding that energy security is at the top of his current agenda.
"During the last 12 months, great works were done in Georgia with great effort from the government and opposition. What was done was noted and that [which remains] to be done is of great importance as well," said Benita Ferrero-Waldner, the EU Commissioner for External Relations and European Neighborhood Policy, in a speech to the conference. "I ask you not to change the rhythm of development."
EU Special Representative for the South Caucasus Peter Semneby said he has seen some progress toward conflict settlement since first visiting Georgia in 1992. At the time, there was an ongoing armed conflict in Abkhazia, he said, with fighting in South Ossetia just finishing.
"We must think a lot about how to settle the conflicts and share new ides with each other," Semneby advised. He pointed out that it is an election year for both Russia and Georgia, giving the two countries a new opportunity to asses their relations.
Giorgi Baramidze, State Minister for Euro-Atlantic Integration, said Georgia has passed through the first stage of the European Neighborhood Policy action plan.
"Today, we can evaluate the first stage and declare that Georgia is moving on to the second stage of the plan, which entails widening trade with EU countries [something that] will lead the country to economic stability," Baramidze told the Messenger.
He said that the EU region looks favorably on Georgia, and that Tbilisi's liberal domestic reforms make the country well-placed to begin free trade negotiations with European nations.
"And that means additional investments for the country," Baramidze said.
Kakha Lomaia, chief of the National Security Council, said the visiting EU representatives bring good news for Georgia.
"We are being visited by high officials from EU structures, and that means that Georgia is really being discussed in the context of EU integration. And, on the other hand, their evaluations show that Georgia is adhering to their values," Lomaia commented.
In his address to the conference, Prime Minister Lado Gurgenidze pledged that Georgia will take concrete steps this year toward long-term EU integration.
Conference attendees included top Georgian officials, representatives of the EU Troika and members of the diplomatic corps.
Georgia agreed on an action plan for the European Neighborhood Policy, which encompasses countries lying outside but near the borders of the EU, in November 2006.