Business leaders ask opposition to bring an end to street protests
By Anna Kamushadze
Friday, February 8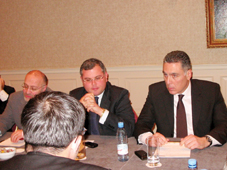 Representatives of the Georgian business community met with members of the nine-party opposition coalition yesterday in a closed-door meeting to discuss the country's economic situation.
"We listened to the opposition... It was a very constructive meeting, a very open, frank meeting," said Fady Asly, chair of the International Chamber of Commerce in Georgia and a part owner of this newspaper. "We expressed our concerns about rallies and demonstrations in the country, which will lead Georgia to poverty."
According to Asly, the opposition acknowledged that the current political uncertainty puts everyone in a losing position, and that demonstrations should be used as a last resort.
Hours before the meeting, opposition supporters rallied on central Tbilisi's Rustaveli Avenue to protest what they claim was a rigged presidential election on January 5.
Opposition coalition member Jondi Baghaturia said he was sorry if demonstrations were harming the overall business climate, but insisted the rallies would continue as long as necessary.
"Demonstrations are like pills, antibiotics to cure a sick country. To cleanse its body, and put it back into motion," Baghaturia said after the meeting.
Alluding to alleged government intimidation against Georgian business owners, Baghaturia also remarked he was glad "the businessmen dared to meet us openly."
Alsy said his business chamber is ready to broker an agreement between the government and the opposition for the sake of economic stability.
"As businessmen, we are neutral. We are not pro-governmental or pro-opposition. We just want to create [a good] business climate," Asly said.
"Investors are watching. No demonstrations mean no political instability. Rallies are very bad for the image of the country, for the confidence of investors," he stated, adding that representatives of the business community would continue talks with the opposition.
Opposition representative Koba Davitashvili said businesses should be more worried about the government than the opposition.
"We told the businessmen that it's not protests, but the [violent] response to these protests that really threatens investors and creates a bad image for the country," Davitashvili said, referring to the violent crackdown on anti-government demonstrators on November 7.
Giorgi Isakadze, president of the Federation of Georgian Businessmen, told the Messenger the meeting was constructive.
"I think that the fact we even had this dialogue is an important fact. We frankly shared our ideas abut current events…and received pragmatic answers from their side," he said.
In the meeting, the businessmen also raised concerns over boycotts called by the opposition.
Opposition coalition members have called for a boycott of beverage companies Coca-Cola and Natakhtari on the grounds they were major backers of President Mikheil Saakashvili's reelection campaign.
Asly mentioned that boycotts are harming the country's image, with Isakadze adding that companies should not face rebukes for making transparent political contributions.
"If you are interested in my opinion, I appreciate those who openly declare their position more than those who secretly finance the government or any political group," Isakadze declared in an apparent reference to business tycoon Badri Patarkatsishvili, a former presidential candidate now wanted on charges of conspiring to overthrow the state.