Healing the lives of Georgia's abandoned children through art
By Tawnya Ferbiak and Irakli Gioshvili
Friday, February 8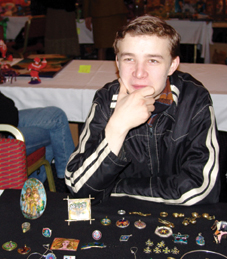 Chronically ill in a decrepit orphanage with no electricity or running water, little food and thin walls that could not keep out the freezing Caucasian winter, Pavel Nefedov was facing a bleak future. But the timely revival of a traditional Georgian folk art and the charity of one of Georgia's most famous artists and teachers helped transform Pavel's life from one of hopeless poverty to one of dignity and hope.
Abandoned by his parents when Georgia declared independence from the Soviet Union in 1989, Pavel's Russian parents returned to Moscow, leaving four sons behind in Tbilisi. Pavel and his twin brother were the oldest of the children at four years; their youngest brother was only eight months. They quickly found themselves in a state orphanage, where each of the Nefedov brothers lived until they turned 14, the age when the government turned orphans out. With little skills or education, most children leaving the orphanage faced a destitute life of begging on the streets.
In 2000 Nino Chubabria, formerly a geologist and horse trainer, received a call from the UK Department for International Development requesting she assist a project to found a nonprofit to help street children. The previous director had stolen a significant portion of the budget, putting the project at risk of being cancelled. Chubabria agreed to help for a short while, but when she met the children she was quickly hooked and committed herself to the cause. With Orthodox priest Father Giorgi serving as president, the Mkurnali ("Healer") Association for disadvantaged youth was founded.
The Mkurnali Association began providing humanitarian aid and vocational training to needy children in its founding year, helping adolescents and young adults break a hopeless cycle of poverty and crime. The first workshop the association offered was in enamel jewelry making; seven years later, it is still the organization's biggest success.
2000 was also a notable year for Georgia's post-Soviet revival of the enamel arts because Tea Gurgenidze, one of Georgia's most respected enamelists and teachers, decided to open the country's first school for enamel arts, the Ornament Gallery near Tbilisi's historic Chardeni Street. Volunteering her time over 20 months to instruct the Mkurnali Association's needy children free of charge, the first workshop was a huge success. Almost all of the children Gurgenidze instructed are now supporting their families with their enamel work.
Thirteen-year-old Pavel was one of Gurgenidze's first students. Now 21, Pavel has supported himself as an enamel artist since he left the orphanage. Both Pavel and his twin would later marry girls they met in the orphanage, and have children at age 19. Today the entire family, brothers and wives, work together in their own workshop, employing other former street children. Pavel now teaches as well, leading the enamel and jewelry workshops at the Mkurnali Association.
Typical of many youths who attend the Mkurnali Association's workshops, the Nefedovs have stayed close to the organization. The organization's strong family atmosphere is one of its greatest assets. This is due in part to Chubabria and Father Giorgi, who serve as parental figures for many of the children. But the children and young adults take the lead in helping each other as well, creating a strong community of peer leadership. Many of the young artists continue to work with street children long after they realize success as artists. Mirza Beruashvili, another successful young artist who studied with Gurgenidze, now teaches workshops for disadvantaged youth at Caritas International and works as a social worker for Save the Children. In addition to teaching, Pavel and Mirza are working to found a new young artists' cooperative to help as many children find success as artists as possible.
More than just solving an immediate economic problem, the enamel arts provide much needed therapy for children who have had tragic experience and circumstances in their lives. Learning a traditional Georgian folk art and being empowered with a skill to make their own living gives many children the confidence they need to participate in society. A recent holiday show and sale at the US Embassy in Tbilisi for the Mkurnali Association's young artists proved to be unforgettable experience for many children. More than the excitement over the success of the show, the children were most moved by the interest and respect they were given as artists by the embassy staff.
A group of American and Georgian volunteers recently founded a partner nonprofit to the Mkurnali Association in Colorado, Georgian Youth Rescue (GYR). GYR plans to offer a "Sponsor a Street Child" program by connecting donors to needy children waiting to attend vocational training. GYR is also soliciting donations for equipment to start an enamel jewelry making workshop at the Avchala juvenile prison, and is supporting the formation of Georgia's first enamel artists' cooperative.
When asked in what direction he would like to take his career as an artist, Pavel declines to answer. The most important thing, he tells us, is to help as many children as possible find a new life as artists, far away from the streets.
For more information about the Mkurnali Association's programs for vulnerable youth, please contact Nino Chubabria at (+995 99) 18 17 08 or Tawnya Ferbiak at tawnya.ferbiak@gmail.com.