Prominent ex-journalist unveils new opposition party, claims Patriarch's blessings
By Eter Tsotniashvili
Friday, February 8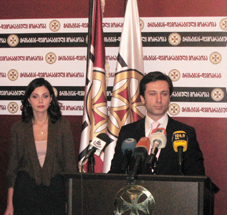 Former Imedi TV anchor Giorgi Targamadze unveiled his oppositional Christian Democratic Party yesterday, declaring it a "patriotic and democratic alternative" intent on making Orthodox Christianity the state religion, and claiming his party would enjoy the blessings of the spiritual leader of the Georgian Orthodox Church.
Flanked by a number of other ex-Imedi journalists at the press briefing, Targamadze accused the ruling party of aiming to "damage and destroy Georgia's traditional and democratic institutions."
"Our country is ruled by a regime that counters the Georgian nation's vital interests," he said, adding that his new party was been established to "prevent the diminishing of the state."
He also said that Christian Democratic ideology "defends national identity and helps preserve ethnic and cultural uniqueness," but emphasized that the movement is open to anyone who shares its principles, whether they are of Orthodox faith or not.
Catholicos-Patriarch of All Georgia Ilia II, Targamadze announced, would bless his party's emblems in a religious ceremony today.
A representative for the Patriarchate said he was unaware of the planned ceremony, but that Targamadze probably would not have said it if it was not true.
Ramaz Sakvarelidze, a long-time political analyst in Georgia, said he cannot recall another time Ilia II has bestowed his implicit blessings upon a political party.
If the Patriarch does indeed bless the emblems of the Christian Democratic Party, it would provide an immediate veneer of respectability and viability to Targamadze's high-profile but nascent political movement. A survey of voters conducted by the International Republican Institute in Georgia last summer found the Church to be the most popular institution in the country, with more than nine in ten voters giving it a favorable rating.
Representatives of the Christian Democratic Party have not ruled out collaborating with other opposition parties, but said they need to develop their party first.
Kakha Kukava, a member of the nine-party opposition coalition, said they will wait to see what strategy and composition Targamadze's party adopts before discussing any possible cooperation.
One member of the opposition coalition has already departed to join Targamadze. Zaza Gabunia, who until now led the coalition's youth wing, announced that he moved to the Christian Democratic Party out of support for its ideology and goals.
Inga Grigolia, another former Imedi journalist with celebrity status who now hosts a talk show on Rustavi 2, wished her former colleague luck, adding that there is nothing out of the ordinary about journalists entering politics.
"I have always been a Targamadze fan and that's why I came here," Grigolia said at the press conference yesterday.
Targamadze resigned from Imedi TV, which was founded by controversial business tycoon Badri Patarkatsishvili, on January 12, stating that a decision to enter politics would rest on consultations with his family and the Patriarch.
In an incriminating videotape of Patarkatsishvili's presidential campaign chief released by prosecutors in late December, Targamadze is mentioned in passing as a potential abettor in a coup plot, devising anti-government propaganda as an Imedi producer before taking over the leadership of a new political party.
Targamadze strongly denied any connection to Patarkatsishvili's alleged conspiracy, and prosecutors have not implicated him in the case.
Before his television career Targamadze, a former MP, was the parliamentary leader of ousted Adjara leader Aslan Abashidze's political party.