Final phase of South Caucasus anti-drug program launched
By Eter Tsotniashvili
Monday, February 11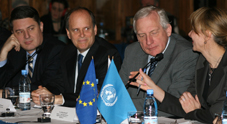 On February 8, the fifth and final phase of the South Caucasus Anti-Drug Program (SCAD) was launched in Tbilisi, where representatives of the EU, the UNDP and South Caucasus governments gathered to discuss the program's progress in the region.
The program's overall goal is to help Armenia, Azerbaijan and Georgia to adopt EU practices in drug policy and implement drug-related components of the European Neighborhood Policy action plans.
The two-year, EUR 2 million fifth phase of the project includes aid in preventing drug use and treating addicts.
UN resident coordinator Robert Watkins said the project is now laying out its objectives for the next, and final, year.
"Unfortunately, [the number of] drug users increased in the region. The project has helped to decrease this number, but drug use is still increasing and I think this is the indication that we have to do more," Watkins told the Messenger, adding the focus should not only be on police action but also on treating addictions.
"We have drug treatment facilities and rehabilitation centers, but we also looking forward to addressing the issue through educational programs," he said.
According to the Ministry of Health, Labor and Social Affairs, there are seven to eight thousand officially registered drug abusers; some were registered after being arrested, others after offering themselves up for treatment.
Deputy Minister Nikoloz Pruidze acknowledges the total number of Georgian drug abusers is far higher, but praises cooperation like the SCAD project for pooling valuable information and experience.
The Health Ministry allocated GEL 950 000 out of its 2007 budget for treating drug addiction, he added, much more than the GEL 50 000 spent on the purpose in 2005.
Deputy Interior Minister Giorgi Lortkipanidze explained the country's top priorities in combating drug abuse.
The most prevalent drug in Georgia is Subotex, he told the paper, sold relatively freely in European countries to help treat heroin addictions. Lortkipanidze says the drug is hidden in cars driven into Georgia.
"We are actively struggling against drugs; our ministry has a special department…working on the issue. We are also collaborating with foreign countries, as drugs are [often] in transit through Georgian territory," Lortkipanidze said, adding that the Interior Ministry estimates there are about 300 000 drug abusers in Georgia.
First launched with EU financing in 2001, the UNDP-run SCAD program will finish at the end of 2009.