Opposition suspend talks
By Eter Tsotniashvili
Monday, February 11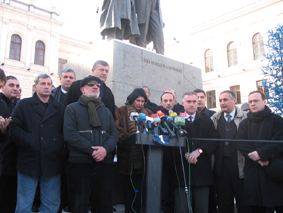 After a weekend of conflicting messages from the opposition, leaders of the nine-party coalition confirm there will be no further talks with the government until three key demands are met.
"We will not attend these meetings, because the government does not fulfill demands which are easy to satisfy," coalition member Koba Davitashvili declared, seemingly without coalition backing, in front of City Hall on February 8, adding that the opposition is calling off a planned February 12 meeting with Speaker of Parliament Nino Burjanadze.
Burjanadze said she was surprised at the timing of Davitashvili's statement, coming as agreements were reached on some of the opposition's 17-point list of demands.
"The consultations were constructive enough, and we've taken steps on a number of issues," Burjanadze told journalists that day.
Reached for comment last night, after the opposition convened to synchronize their plans, Conservative Kakha Kukava confirmed that further talks with the government hinge on the fulfillment of three demands Davitashvili listed on February 8: the resignation of Central Election Commission chair Levan Tarkhnishvili, the resignation of public television director general Tamar Kintsurashvili and the release of "political prisoners," mostly a reference to opposition campaigners arrested on or after November 7.
Burjanadze said on February 8 that teams had already been dispatched to look into the arrests, and possible release, of citizens arrested in relation to November 7, the day riot police violently dispersed peaceful anti-government protestors. Burjanadze said the director general of the public broadcaster could not be replaced, for procedural reasons, until a new board of directors is set up. The resignation of the Central Election Commission chair, she said, should be discussed in the context of appointing someone new to the position.
"I think it is strange to stop negotiations while we are in the process of reaching some agreements. I will again voice our readiness to reach agreements and to undertake concrete steps. The language of ultimatums is unacceptable," she said.
Some opposition parties were apparently taken off-guard by Davitashvili's announcement. Representatives of the Industrialists and the New Rights, which have participated in the dialogue but are not in the opposition coalition, said the decision to stop the talks was not unanimous.
"[The nine-party opposition coalition] did not have any consultations with us about this decision; if they decided to stop this dialogue, we were not informed about it," Pikria Chikhradze, a New Rights member, told Rustavi 2 on February 9.
Political analyst Ramaz Sakvarelidze was unsurprised by the opposition's dissonance over the weekend; it's a political movement rather than a party, he pointed out, with each member holding different notions.
The coalition is characterized not by organizing campaigns, he told the newspaper, but by its single unanimous goal of getting President Mikheil Saakashvili out of office.
The initial contradictions surrounding Davitashvili's statement, Sakvarelidze says, should not be taken as signs of the opposition splitting apart—they still have an interest in banding together to secure a better environment for spring's parliamentary elections. In the meantime, he suggests that they are learning from their errors.
"They have the same demands, but now they will take into consideration the fact that, in politics, it is not sensible to take spontaneous steps," he said.
Kukava, of the opposition coalition, suggested last night that more decisions could be made in the moment. A large-scale protest is planned for February 15 in the capital, he said, which will continue until the government fulfils the opposition's demands.
"No one knows exactly how long it will continue," he said, "and what will be included in these protest actions."
He acknowledged that the opposition had filed for only a ten-day permit for demonstrations, but said the permission from City Hall is just a "formality."
Sakvarelidze suggested the government may be stalling on making compromises until February 15, so they can see how many people turn out for the opposition's promised mass protest.
"They [may] want to draw out the negotiations," the analyst commented. "Even when playing football, players will waste time, and it wouldn't be surprising if a government behaves the same way."