Opposition present list of 'political prisoners,' await government's move
By Eter Tsotniashvili
Tuesday, February 12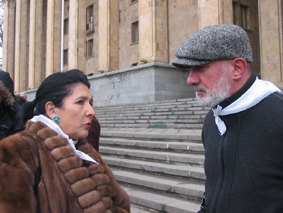 Talks between the opposition and the government scheduled for today are off, as the opposition accuses the government of stonewalling in negotiations and readies for a new protest on February 15.
The opposition are now standing firm on three demands, saying there can be no further dialogue until the Central Election Commission chair resigns, the director general of the state-owned public television broadcaster resigns, and the state releases all "political prisoners."
"An agreement was reached on [these three demands]," coalition member Goga Khaindrava said yesterday. "Despite the promises to satisfy these demands, they have not yet been fulfilled."
Everything the government does now is for public relations purposes, he added, claiming that the ruling party is wasting time in the talks, leaving no reason for the opposition to continue negotiating.
The opposition presented a list of 43 people who they claim are political prisoners. The list includes some people arrested on November 7, when riot police violently dispersed anti-government protestors in Tbilisi, but also includes people accused long ago of plotting attacks against former president Eduard Shevardnadze.
Coalition member Zviad Dzidziguri said yesterday that prominent arrested ex-minister Irakli Okruashvili is on the list.
But Levan Bezhashvili, a ruling party MP who chairs the legal issues committee, says that Okruashvili is not included on the list. He also says that of the 43 people the opposition want released, only four were arrested on November 7. Another eleven of the list are already out of prison, according to Bezhashvili; six are accused of plotting attacks against Shevardnadze; thirteen are charged with drug crimes and two were never arrested in the first place.
Dzidziguri, speaking before Bezhashvili detailed the charges against those on the list, reiterated opposition claims that some of its campaigners were framed by police.
"As for the people who the government says were arrested on drug charges, and I can say that [Interior Minister] Vano Merabishvili would have no trouble putting drugs into the pocket of someone they want arrested," Dzidziguri he said.
The opposition called on its supporters to gather outside parliament on February 15 in protest.
"If it is necessary we will set up tents," coalition member Jondi Baghaturia warned. The government's crackdown of the November protests came shortly after the opposition began erecting a small 'tent city.'
"If we see that the government satisfies our demands, then we will think about continuing negotiations with them on other issues after February 17," he added.
Meanwhile, the Labor Party announced a civil disobedience campaign directed against the "illegitimate and de facto president and government of Georgia," urging its supporters to join the February 15 protest. Labor presidential candidate Shalva Natelashvili took about 130 000 votes nationwide, or about 6.5 percent, in the January 5 presidential election.
Opposition candidates claim the election, which international observers say was essentially fair, was rigged to hand President Mikheil Saakashvili reelection without facing a runoff vote.