Patriarch baptizes hundreds of newborns to encourage greater Georgian fecundity
By Anna Kamushadze
Tuesday, February 12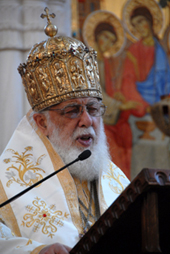 Catholicos-Patriarch of All Georgia Ilia II met with his hundreds of godchildren on February 8, weeks after he baptized them at Sameba Cathedral as part of a campaign to highlight Georgia's perceived demographic plight.
Demographics is a hot topic in Georgia at the moment, with concern voiced from all corners of the political spectrum that Georgians are a dying breed with low birth rates.
The Patriarch weighed in on the debate last year, pledging to baptize every newborn third child and supply them with financial aid until their eighteenth birthday.
"We face a difficult demographic situation in Georgia, so one of the key priorities of the Patriarch's Charitable Foundation will be demographic projects," he said on December 14.
The message has struck a chord with some Georgians. "This is a really good incentive from the Patriarch. I would very much like him to be the godfather of my child," said Natia, a young housewife. She and her husband already have one child but are hoping for four.
Although the Patriarch has baptized some 550 children into the church already this year, the exact details of the financial assistance they have been promised remain hazy.
Irakli Kadagishvili, chief manager of the Patriarch's Foundation, told the Messenger that a request for financial backing is being drawn up to be handed to the government.
He added that the initiative should be important for every Georgian family. "Today, when Georgia faces a very serious demographic problem—our nation is at the edge of extinction—the Patriarch's appeal is very important," he said.
However marriage and birth rates are both on the up, according to the Civil Registry Agency of the Justice Ministry. Some 48 026 newborn children were registered last year, compared with 45 931 in 2006 and 41 434 in 2005, according to the agency. Meanwhile marriages are up from 21 876 in 2006 to 25 929 in 2007.