Government to detail its positions on opposition demands
By Eter Tsotniashvili
Wednesday, February 13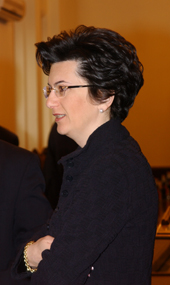 Speaker of Parliament Nino Burjanadze says the government will offer a deal to the opposition by the end of the week, while opposition leaders claim the ruling party is split at the highest levels over how to proceed in ending the country's political deadlock.
Parliament will present a "joint memorandum" staking out the government's position in the negotiations on February 14, Burjanadze said yesterday.
Burjanadze told parliament she had personally telephoned Republican Davit Usupashvili and Conservative Kakha Kukava of the opposition coalition, reaching an agreement to leave the door for dialogue open as the government prepares its public position on the opposition's list of 17 demands.
"This memorandum is being done to prevent straining the situation in Georgia, and to prevent deadlock in the talks," Burjanadze said.
Kukava, speaking to the
Messenger
, clarified that the government's memorandum would be drafted without opposition input, and would detail what compromises the ruling party is willing to make.
Opposition coalition leaders, after convening to consider their moves, came out accusing powerful figures inside the ruling party of scuttling the negotiations and reaffirming that they are waiting for three demands—the sacking of two high-profile public officials and the release of 43 "political prisoners"—to be fulfilled before returning to the bargaining table.
"Until the agreements we reached with authorities are fulfilled, there's no point to think about [further negotiations]," Koba Davitashvili told the journalists. A large-scale protest is planned for February 15, with opposition leaders speaking of a permanent rally outside parliament if the government does not compromise.
Reached for comment last night, Kukava said the opposition sees Burjanadze as willing to continue dialogue and reach real compromises, but that she is battling with the influential Liberty Institute group led by prominent MP Giga Bokeria. His own coalition, Kukava insisted, is solidly united.
The Liberty Institute is an NGO which played an instrumental role in the 2003 Rose Revolution.
Seemingly two steps behind the convoluted political twists are the New Rights and Industrialists parties, both backers of the 17-point list of demands but not part of the nine-party opposition coalition.
When the opposition coalition abruptly called off the talks last week, the New Rights, apparently not consulted in the decision, belatedly announced they would continue with the negotiations.
And yesterday, after Burjanadze spoke of making personal telephone calls to two opposition leaders, a perturbed New Rights representative said the calls were unexpected.
"I don't understand why they're having these individual conversations when negotiations in a joint format were underway. We have not participated in these [telephone conversations] and we don't have any information about the content of the conversation," New Rights member Mamuka Katsitadze said.