Human rights ombudsman puts forward case on Imedi TV
By Messenger Staff
Wednesday, February 13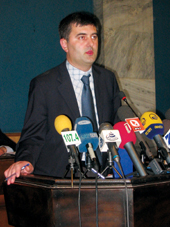 Human Rights Ombudsman Sozar Subari called on the Georgian National Communications Commission (GNCC) not to suspend Imedi TV's broadcast license in a statement released yesterday.
He also warned that GNCC actions to restrict Imedi's activities could "in the long run hinder the development [media] freedom and pluralistic society."
The station, which is widely regarded as unfriendly toward the government, has been dogged by controversy since the November 7 street protesters. In a decision backdated to that day, the GNCC suspended Imedi's broadcast license for three months for airing "obvious disinformation" during the unrest.
Imedi's closure provoked statements of concern from Western governments and human rights activists at the restriction of media freedom in the run-up to the January 5 presidential election.
It resumed broadcasting in December but voluntarily went off air weeks later, after authorities accused station founder Badri Patarkatsishvili of plotting to overthrow the government. It has not returned to air since.
The GNCC is due to consider suspending the Imedi's license again at a February 15 session, citing a broadcast law that stipulates licenses cannot be held by "a political party or its officials."
Last month, the GNCC said that Imedi TV is entirely owned by E-Media Ltd., which in turn is majority-owned by JMG Consulting Group, of which Patarkatsishvili directly owns a 15 percent stake.
However, Subari says that the GNCC failed to specify "which party Patarkatsishvili is with nor what position he has in this party."
He added that the license holder should be issued a warning first, and must commit the same violation for a second time, before the GNCC considers revoking the license.
A separate statement published on the ombudsman's website on February 8 says he has appealed to Prosecutor General Eka Tkeshelashvili with information that he claims implicates the GNCC in foul play in issuing a fine to the station on November 7.
The fine was for airing a statement by Patarkatsishvili during the protests which authorities claim encouraged violence.
However, the ombudsman claims the GNCC warning was drawn up at 17.40, nearly an hour before Patarkatsishvili's statement was first broadcast at 18.28. This implicates the GNCC in fraud, he says, by including "false information in an official document."